| | |
| --- | --- |
| | Welcome to the IWC's July edition of Yummy News, your one-stop-shop for all things delicious, from wines to try, food and wine pairing, restaurant reviews, details of our latest tastings on offer and so much more. |
Led by Greater China's renowned wine commentator Simon Tam, along with consultant and winemaker Eddie McDougall, the IWC comprises of a fully independent team of qualified consultants widely recognised for "telling it how it is". With nearly 20 years experience making, tasting, discussing, writing about, judging, studying and evaluating wine, the IWC is passionate about bringing the delicious wines of the West to the thirsty East and are all about nurturing and developing invaluable life-long wine appreciation skills among the everyday wine drinker.
IN THIS ISSUE
SIMON AT VINEXPO
Simon headlines "Future of French Wine Debate"


As highlighted on the cover of its July/August 2009 edition, leading French wine magazine Revue du Vin (RDV) de France interviewed Jancis Robinson, Robert Parker and Simon Tam about the future of French wine in the global market. See more of the article on the IWC's Yummy Events page.
ON THE GRAPEVINE
Simon takes the stage at Vinexpo
Simon was invited to share his expertise on the Greater China market at Vinexpo in France last month. Simon joined some of the world's foremost wine experts on stage for Vinexpo's World Debate - The Future of French Wine. He is pictured here with Denis Saverot and Jean-Emmanuel from leading French wine magazine, Revue du Vin (RDV) de France, on stage during the debate.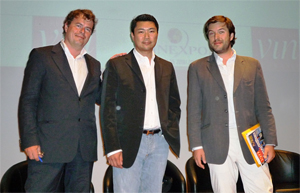 IWC hosts exclusive Mills Reef Gimblett Gravels tasting workshop
Winemaker extraordinaire Tim Preston from Mills Reef was in town recently and the IWC hosted an exclusive tasting for wine industry representatives at the IWC tasting centre. Tim led attendees through his exclusive, much-awarded Gimblett Gravels series, and a spectacular time was had by all. Check out the IWC website's Yummy Events page for more photos from the evening.

Eddie & Winemaker, Tim Preston
IWC BBQ Masters!
Recently the IWC joined forces with the Australian Consulate and Grand Hyatt Hong Kong for an Aussie get together to discuss key updates in the Hong Kong wine industry and introduce overseas wine representatives. Simon "the tong master" Tam took to the grill, and guests enjoyed sampling some great iconic Aussie wines, including Penfold's Grange Hermitage and Noble One.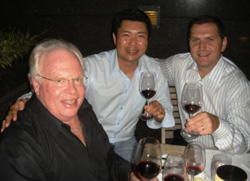 Simon with Consul General Les Luck and Gordon Fuller, Grand Hyatt HK

Super Taster Summer School Series
The IWC has launched a Super Taster Summer School Series to give the wine lovers of Greater China the chance to perfect their palates over the summer months. While away the summer evenings sipping some of the world's finest wines in the IWC's all glass tasting room overlooking picturesque Victoria Harbour.

Book your place in Super Taster I (beginning August 11), Super Taster II (beginning August 12) or Super Taster III (beginning August 13) before 22 July and you can buy another place (for a friend or colleague) for half price. (Bookings must be made before 22 July).
IWC WINE TASTING WORKSHOPS
Eddie the Winemaker's spotlight on... "Specialist Workshop - Understanding Oak":
"In July, I'm conducting two specialist tasting workshops: Understanding Oak I and II, which will be the most advanced and definitive workshops on this topic ever conducted in Hong Kong. With both a red and a white wine workshop, you'll discover the true aromas and flavours of French and American Oak. You'll test your threshold, smell and taste the differences and judge for yourself! We'll then top off each workshop by comparing your best against a classic Burgundy. I hope you'll join me for this really exciting tasting event!"


More details:

**OR, take advantage of our special promotion: package price for both workshops = HKD$1500 per person**
To whip your tastebuds into shape over the next month, here are all the important dates for the diary:
TASTE THIS SPACE
Dierberg Santa Maria Valley 'Stevens' Pinot Noir, 2006

A great expression of Central Coast, Californian Pinot Noir. 2006 was as a tough and uncertain Pinot Noir vintage due to unseasonal weather patterns but this wine has certainly stood the test of time due to great winemaking and viticultural knowledge. Long lasting primary flavours of red fruits are brought to life with wonderful natural acidity and a luscious texture. Made in very minimal volumes, this beautifully complete wine has the drinker begging for just one more glass.

Check out more Dierberg tasting notes on the IWC website, including:

Dierberg Santa Maria Valley Chardonnay, 2006
Dierberg Santa Maria Valley Pinot Noir, 2005
Dierberg Santa Ynez Syrah, 2005
PERFECT PAIRING
Greek Moussaka
| | | |
| --- | --- | --- |
| | | Moussaka, pronounced 'Mu-Sak-Kar' is a time honoured, humble dish of local Greek farmers. It is based roughly around the lasagne idea but eggplant or aubergine is used instead of pasta. The other main different is that moussaka calls for flavourful minced lamb instead of pork or veal. The main flavours of the dish come from fully ripened tomatoes, the indispensable Greek oregano, rosemary, some chilli spice and of course huge quantities of garlic, topped off with a béchamel-like creamy cheese sauce. |
The best wine match for Moussaka is one with rich complex fruit notes, plenty of resolved tannins and good natural acidity. Given the full flavoured nature of minced lamb and 'brown' flavour notes of the herbs used, red wine seems more natural than contrasting "bright" flavours of most whites.
2005 Chateau Montus, Madiran, Alain Brumont, France.
Fine Vintage (HK) Ph: 852 2896 6108
Few people know where Madiran is and even fewer have heard of the Tannat grape. However, these two combine to give one of the most exquisite, long lived but sadly least known French classics. Tannat wines are usually dense, dark, and very dry with plenty of tough tannins. This Chateau Montus is almost black! It has huge voluptuous fruit that backbones the richness of the moussaka. The herbs, tomatoes and garlic richness add to the wine's berry complexity and smoky hints from oak maturation. The wine is dry but friendly and works well with the moussaka's savoury finish.
2007 Stonier Reserve Pinot Noir, Mornington Peninsular, Australia.
ASC Hong Kong (HK) - Tel: 852 3923 6700
Stonier is not just the pioneer vigneron of the picturesque Mornington Peninsular; this winery is synonymous with high quality cool-climate Australian Pinot Noir. The Stonier style is, well, Stonier. There is always richness of complex fruit driving seasonally reflective wines. The wines are always balanced, especially with respect to oak. This Stonier Reserve is rich with plenty of deep lively fruit flavours, which relate well with the moussaka's richness. The Stonier is deceptively rich on first impression. As the combination is explored, the savoury Pinot fruit and palate waking herbs notes dance alternatively. The Stonier Reserve's silky, grainy texture also interacts well with the creamy, flavour soaked eggplant.
2005 Kay Brothers Block 6 Shiraz, McLaren Vale, South Australia.
Altaya Wines (HK) – Ph: 852 2523 1945
If you like your wines powerful and concentrated with everything, this is your wine. It is rich without being dull. There is plenty of natural acidity to liven up the palate and it is orgasmic with moussaka. There are many subtle notes in the Block 6, including most obviously, chocolate and mocha from charred barrels. They provide a contrasting but richly flavoured canvass for all the other flavours. The wine is unmistakably full bodied and matches the intensity and fullness of the eggplant. This is a complete and seamless combination where both flavours and textures of food and wine are extended harmoniously.
For another perfect pairing - Chinese tea-smoked duck - checkout the IWC website.

OUT & ABOUT
Get In Touch
For further inquiries, please visit our web site http://www.iwinecentre.com or email admin@iwinecentre.com or telephone :(852) 2549 0181