| | |
| --- | --- |
| | Welcome to the IWC's August edition of Yummy News, your one-stop-shop for all things delicious, from wines to try, food and wine pairing, restaurant reviews, details of our latest tastings on offer and so much more. |
Led by Greater China's renowned wine commentator Simon Tam, along with consultant and winemaker Eddie McDougall, the IWC comprises of a fully independent team of qualified consultants widely recognised for "telling it how it is". With nearly 20 years experience making, tasting, discussing, writing about, judging, studying and evaluating wine, the IWC is passionate about bringing the delicious wines of the West to the thirsty East and are all about nurturing and developing invaluable life-long wine appreciation skills among the everyday wine drinker.
IN THIS ISSUE
ON THE GRAPEVINE
Partying the night away at the IWC!
Many thanks to those of you who joined us for our 'Welcome to Hong Kong, Eddie' party recently. Eddie and Simon introduced guests to all the new tasting courses the IWC has on offer. It was a tremendous bash, with fabulous wine (Eddie's very own blends), a tasty leg of Jamon Iberico, and great company.
| | |
| --- | --- |
| | |
| Clement Chan, Jenni Matthews, Winnie Wong & Simon | Eddie & Winnie Wong |
| | |
| Eddie & Angela To | Simon carves up the Jamon Iberico |
| | |
| The IWC was packed to the rafters for the party | Eddie the Winemaker shares his masterful blends |
Simon visits beautiful Croatia
Simon recently visited Croatia to consult to the wine industry. While there, he managed to take a small break out of his busy schedule to meet the newly crowned Miss Croatia, Ivana Vasilj.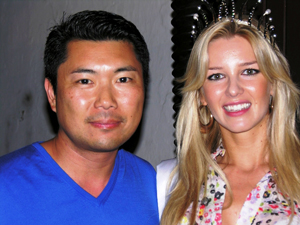 Simon & Ivana Vasilj
Simon & Eddie catch up with German wine legends
Simon and Eddie recently caught up with world-class winemakers Ernie Loosen from Dr Loosen (Mosel) and Oliver Haag from Fritz Haag (Mosel) for dinner in Macau. The two were on a market visit to the region and stopped to update the IWC on all their recent news and discuss their latest vintages.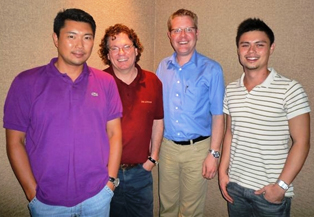 (L-R) Simon, Ernie Loosen, Oliver Haag and Eddie
IWC WINE TASTING WORKSHOPS
Spotlight on...Super Simon Special
A super special event on this month's tasting calendar is the first Super Simon Special tasting, and this one's going to be spectacular! Join Simon for the Ultimate Champagne Workshop, where you'll taste and compare the difference between the world's best Champagne.
On the menu will be 1988, 1989, 1990 Vintage Veuve Clicquot Ponsardin, 2002 Cristal, Old & New Edition NV Ruinart and 1990 Bollinger. If that doesn't put you in the mood to celebrate, we don't know what will!

IWC Specialist Tastings - IWC has a range of one-off tasting events designed to broaden your palate's horizons and get those taste buds dancing with joy. Upcoming tastings include:
Prime your palate - here are the important IWC wine tasting workshop dates for the diary:
TASTE THIS SPACE
Star Lane Santa Ynez Cabernet Sauvignon, 2005

This wine exemplifies richness and high concentration of flavours. Built to last characteristics of roundness and very well balanced natural tannins compliment this wine's ability to display purity of fruit and regionality. Cabernets from the Central Coast of California certainly are a force to be reckoned with due to the excellent maritime conditions and free draining soils which create a wine with balance and most importantly flavours to remember. Drinking well now but I would love to see this wine in 10+ years.

Visit the Best Wines section of the IWC website for some great whites to cool you down these hot summer months.
PERFECT PAIRING
African Chicken
| | | |
| --- | --- | --- |
| | | Macanese food is probably one of the earliest and, by far, the most established 'fusion' cuisines in the world. When the Portuguese (who colonised Africa) went to Macau, a completely new Macanese cuisine evolved in conjunction with the local Macau Chinese, including the famous African Chicken. |
There are many versions of African chicken, but essentially the whole chicken is opened up, flattened and marinated in a mixture of mild chilli, coconut milk, turmeric, a tonne of garlic and then charcoal grilled or fried in butter. It's a powerful and seductively aromatic dish. The ideal wine with African chicken and needs flavour concentration and some sort of dark berry notes. Red wines are generally heartier than white. Red tannins also restore freshness in the mouth.
2006 'Nine Popes' Grenache Blend, Charles Melton, Barossa Valley, South Australia.
Northeast Wines & Spirits (HK) - PH: (852) 2873 5733
Nine Popes plays on the Chateauneuf-du-pape appellation. This big, ripe Barossa Valley Grenache blend is one of the most sought after in Australia, and indeed, the world. It has masses of deep red fruit that binds well with the rounded richness of coconut milk and heady garlic sweetness. The chilli in the marinade adds high notes. The judicious use of quality oak enhances the richness of the whole combination, even though it might even get a little lost in between the chook and the wine. Nine Popes successfully combines richness and finesse, a rare occurrence in the Barossa Valley nowadays. The 14 or so percent alcohol gives the necessary over drying balance.
2005 Foppiano Petite Syrah, Russian River Valley, California
Golden Gate Wines (HK) - PH: (852) 2891 8181
The same grape is known as Syrah in France and Shiraz in Australia, but it's fair to say that Petite Syrah is widely American. The cool and serene Russian River Valley is better known for elegant Cabernet, luscious Pinot Noir and citrusy Chardonnay. But this Foppiano is something of a wine discovery. It is perfumed with rich concentration; the dark berry melts seamlessly into yet another version of African chicken, which is based on ginger and roasted peanuts. The wine defines fruitiness and perfumed spice lifts it and adds a new dimension. The ginger and aromatic spices mutually add a greater spectrum.
2006 Côtes du Rhône 'Parallele 45' (Grenache Blend), Paul Jaboulet, Rhone Valley, France
Links Concept (HK) - Ph : (852) 2802-2818
The Côtes du Rhône in southern France can give tremendous value for money, but that is the exception rather than general rule. As far as the much lauded vintage variation in French wines is concerned it really doesn't make a great deal of difference for wines at this price and volume. Having said that, this Paul Jaboulet is one of the best value in its category (around HKD$120 per bottle). It has spicy berry nose, it is appropriately rich and concentrated for the price. This is a nice match with African Chicken. Chill it so it is 'cool to touch' for that refreshing edge.
For another perfect pairing - Chinese tea-smoked duck - checkout the IWC website.
OUT & ABOUT
GUESS WHAT...?
The IWC has launch a brand spanking new section in Yummy News - Guess What...? We'll regularly feature a wine-related competition, with a scrumptious prize on offer.
| | |
| --- | --- |
| August Challenge: | Name the famous Chateaux pictured below. |
| The Prize? | First prize is a coveted place in the Super Simon Special Tasting - The Ultimate Champagne Workshop (29 August) AND a $2500 IWC voucher. Second prize will win a $2500 IWC voucher to spend some of our fabulous tasting courses. Third prize is a bottle of Dom Perignon. So enter now! |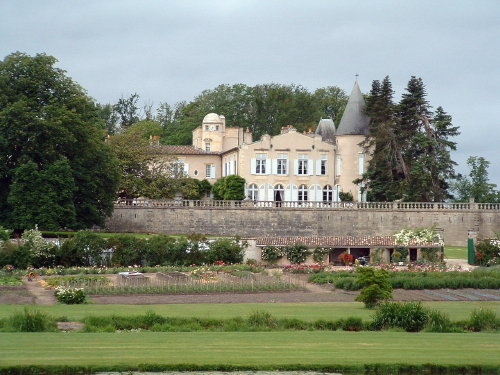 Note: Entries must be received by 5pm on Friday, 14 August. One entry per person. All correct entries will go into a draw to be held on 17 August and the winner will be notified by email on 17 August.

Get In Touch
For further inquiries, please visit our web site http://www.iwinecentre.com or email admin@iwinecentre.com or telephone :(852) 2549 0181