| | |
| --- | --- |
| | Welcome to the IWC's October edition of Yummy News, your one-stop-shop for all things delicious, from wines to try, food and wine pairing, restaurant reviews, details of our latest tastings on offer and so much more. |
Led by Greater China's renowned wine commentator Simon Tam, along with consultant and winemaker Eddie McDougall, the IWC comprises of a fully independent team of qualified consultants widely recognised for "telling it how it is". With nearly 20 years experience making, tasting, discussing, writing about, judging, studying and evaluating wine, the IWC is passionate about bringing the delicious wines of the West to the thirsty East and are all about nurturing and developing invaluable life-long wine appreciation skills among the everyday wine drinker.
IN THIS ISSUE
ON THE GRAPEVINE
Simon Shares a Glass with Blass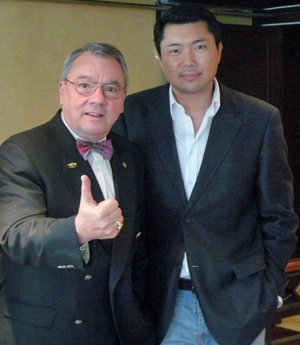 Simon recently caught up with one of the Australian wine industry's most well-respected people, Wolf Blass. It was just like the old times; Simon's godfather was actually production director for Wolf Blass before the company went public.
The only winemaker to win the prestigious Jimmy Watson Trophy three times in a row, Wolf Blass immigrated to Australia from Germany in 1961 and changed the face of the Aussie wine industry. Cheers to you Wolf!
Have Your Say!
| | |
| --- | --- |
| | Tasting and learning about wine should always be fun and an educational experience. As such, we want to ensure we are giving what you want. We'd love to hear what courses you'd like to see on our menu, suggestions for the news, reviews and information we send to you and anything else that tickles your fancy. So drop us a line at admin@iwinecentre.com and tell us what's on your mind. |
Winning Form
We received an overwhelming response to our Super Taster Scholarship initiative. It seems so many of you out there are keen to brush up on your wine education for a range of different reasons. But there could only be one winner, and that person is… Sharon Chan!

Sharon wanted to be awarded the Super Taster Scholarship because... "My husband has hundreds of bottles and it's about time I learn what's actually in our fridge, cabinets, apartments and wine cellar! I'd like to discover and develop my own personal taste, learn how to smell and understand the differences between grape varietals and not just say "hmmm, that's nice".

Despite living in Shanghai, Sharon is happy to fly down for the classes – that's commitment, we say. Congratulations Sharon!
The Perfect Present
| | |
| --- | --- |
| | Take the stress and strain out of your Christmas shopping this year and give your friends and family a fun, exciting and educational gift that keeps on giving. An IWC gift voucher guarantees a good time and the opportunity to learn valuable skills for the lifelong enjoyment and appreciation of wine. Get shopping now! |
back to top
IWC TASTING COURSES
A "Super Simon" Smorgasbord of Specials
With over 20 years experience in the wine industry, when Simon Tam puts on a super special tasting workshop, you're guaranteed a super special experience. And with two of these one-off tastings coming up over the next month, now is the perfect time to get your palate stuck into some super special wines.
Try these two on for size:
1997 Super Tuscans
La dolce vita! Life will be truly sweet – sweet with the complex fruit and rich flavours of Tuscany's big, bold reds. Explore some of the very best drops this famed region has to offer. You'll taste Ornellaia, Solaia, plus a number of others (we'd tell you, but wouldn't want to ruin the surprise!).
1986 First Growth Horizontal
It was a great year. Madonna sings "Papa Don't Preach" and the vineyards across Europe are doing their magic, producing some stunning grapes. The name of this course says it all really – come and taste some of the ultimate Premier Cru of 1986 – a treat for the tastebuds.
Here are the all-important course dates for the coming month:
TASTE THIS SPACE
Eddie the winemaker reviews IWC director Simon Tam's very own drop.

Tam Wines, Semillon, Barossa Valley Australia 1992

When the Typhoon 8 signals are hoisted in Hong Kong, it generally means leaving work early and drinking great wine before the public transport system shuts down. On this occasion I was blessed not only with a half day at work but with a 17-year old Tam Semillon from the Barossa Valley.

Drinking aged Semillon is always such a treat as so often the variety is blended or consumed in its youth. Tam's wine exemplifies the true sense of wine evolution; going from a clean crispy wine to a rich, complex and utterly mouth watering liquid asset. The definitive minerality of this wine holds it true to variety but the flavours of fruit, nuts and honey will keep the wine lover forever dreaming. This was the last bottle in the world and it was great!
PERFECT PAIRING
Chiu Chow Goose
Chiu Chow lao shui is the rich, dark master stock used to cook and flavour foods that otherwise are a little dull such as goose (including the innards), egg and pork tongue, snout, ears and trotters. The master stock, which is used over and over, gaining more flavour with time, remains a closely guarded secret in many traditional restaurants.

Find out which wines Chinese food and wine pairing expert Simon Tam recommends pairing with this sumptuous dish...
GUESS WHAT...?
The IWC just couldn't believe it. With so many knowledgeable wine minds out there, no one was able to guess last month's picture of winemaking equipment correctly. The answer was, in fact, a titration system with a PH meter. Looks like our Yummy News readers need to do some "Meet the Winemaker" courses to brush up on their winemaking knowledge!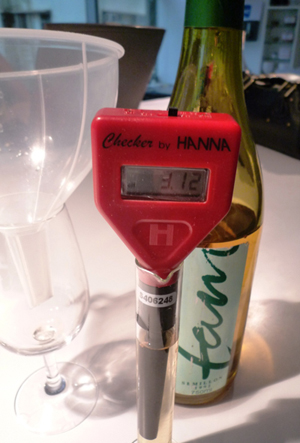 This is the last bottle of TAM Semillon that we know of. A 17-year old white that still tastes fresh and even a little frisky. For our October competition, tell us: What is the secret behind the survival of this wine?
1st Prize
A spot in the IWC's Super Taster I course, plus a bottle of Dom Perignon
2nd Prize
A spot in the IWC's Super Taster I course, plus a bottle of Gonet-Medville Blanc de Noir NV
3rd Prize
A spot in the IWC's Super Taster I course.
Note: Entries must be received by 5pm Friday, 30th October. One entry per person. All correct entries will go into a draw and the winner will be notified by email.
Get In Touch
For further inquiries, please visit our web site http://www.iwinecentre.com or email admin@iwinecentre.com or telephone :(852) 2549 0181