| | |
| --- | --- |
| | Welcome to the IWC's November edition of Yummy News, your one-stop-shop for all things delicious, from wines to try, food and wine pairing, restaurant reviews, details of our latest tastings on offer and so much more. |
IN THIS ISSUE
ON THE GRAPEVINE
Simon Heads Up Asia's Largest Wine Competition
As founder, director and judge of the Cathay Pacific Hong Kong International Wine & Spirit Competition, Simon has had a busy couple of weeks. The competition's four-day judging session (featuring an Asian judging panel) and awards announcement gala event were held in the first week of November and were a huge success. With around 1300 entries, the Cathay Pacific Hong Kong IWSC achieved the status of largest pan-Asian wine competition in its very first year!
Here are all the results – a stack of yummy wines to get stuck into (especially the Chinese food and wine pairings!):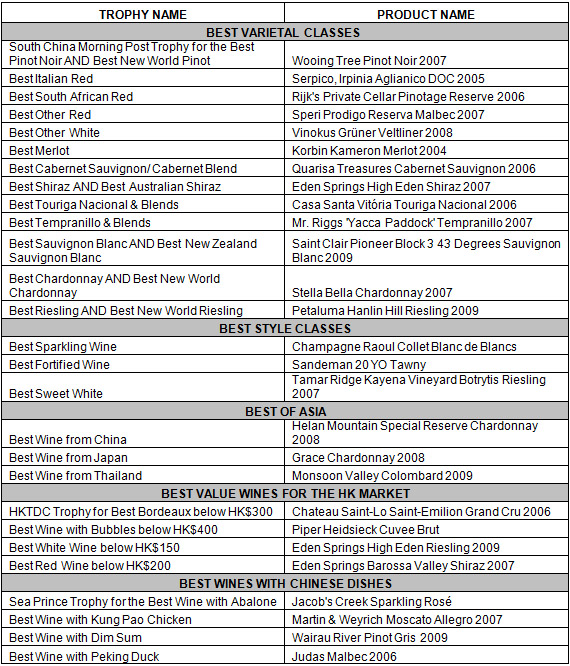 | | |
| --- | --- |
| Debra Meiburg MW and Simon present the trophies | Winning wines and trophies |
| Simon being interviewed by the media | The judges hard at work |
| Simon really does spit | Judging best wine with dim sum |
Bettane & Desseauve Partner with IWC for Exclusive Workshops
Simon and the IWC joined forces with renowned wine experts Michal Bettane and Thierry Desseauve to present one of the most exclusive tasting workshops Hong Kong has seen in a long while, as part of the Hong Kong International Wine & Spirits Fair.
Some of the highlight events, according to Simon, were the Château d'Yquem Master Class (with tastings of vintages 2 001, 1998, 1989 and a magnum of 1962), as well as the Master Class Le Grand Bordeaux (with tastings of Château Lafite-Rothschild 1990, 1994, 1998 and 2003, along with Château L'Evangile 2001 and Château Rieussec).
Read some of the delectable tasting notes in this month's "Taste that Space" and online.
| | |
| --- | --- |
| | Michal Bettane and Thierry Desseauve |
| Simon presents at Le Grand Tasting | The Wine Fair |
back to top
IWC TASTING COURSES
The IWC is busy busy busy planning an exciting education and tasting program for next year – we'll keep you posted on all the important dates for next year's course very soon.
But in the meantime, consider this! An IWC gift voucher makes a brilliant and unique Christmas gift. So if you are still not sorted for Christmas, don't delay! Take the stress and strain out of your gift shopping this year, with IWC gift vouchers. They are guaranteed to have a good time and learn valuable skills for the lifelong enjoyment and appreciation of wine.
Available in denominations of HK$1,000, HK$2,000, HK$3000, HK$4,000 HK$5,000 or custom amount, there's something for everyone. Get shopping now!
TASTE THIS SPACE



Tersina with Simon and Michal Bettane




Yummy News has a very special guest taster this month, winemaker and consultant Tersina Shieh. Tersina played an integral role in facilitating the exclusive Bettane & Desseauve tastings, so we have asked her for some thoughts on a couple of the super special drops she tried this month.

Chateau d'Yquem 1989:

I was fortunate enough to taste this great wine at the Le Grand Tasting Master Class last week. Despite its age, the wine tasted very fresh. The acidity and sweetness were well balanced, not cloying like most sweet wines. The nose was complex: floral, honey, nutty (almond to be precise). The finish was long and lingering. I tried it again with the Chiuchow sesame paste dumpling desert and it was just sublime!

To read tastings notes on Chateau Lafite-Rothschild 1998, head to the Best Wines section of the website.
PERFECT PAIRING
Dan Dan Mien
Dan dan mien is a classic Shanghainese dish. Although it was originally street food and a peasant treat, it has now evolved into rather high-brow fare. As is the case in many Chinese dishes, there are many versions of dan dan mien, but the dish is always rich, intense and nutty. Contrary to popular belief, it's not always chilli-hot. The toppings of nuts, chopped spring onions, sesame and aromatic oil make the dish complete and sumptuous. The perfect wine pairing for dan dan mien must have a good fruit focus. Oaky wine will simply be crucified and taste like woody water.

Find out which wines Chinese food and wine pairing expert Simon Tam recommends pairing with this sumptuous dish…
GUESS WHAT...?
Last Month's Winners (TAM Semillon Competition)
Congratulations to…Dilip Ayyar, the grand prize winner for October. Dilip correctly identified that the 17-year old TAM Semillon's secret of survival was due to its perfectly balanced acidity levels.
November Competition:
With the world of wine firmly focused on Hong Kong this week, with both the Cathay Pacific Hong Kong IWSC and the Hong Kong International Wine & Spirits Fair, Yummy News is following trend.
Question: Why on earth is Simon smashing 40 empty Chateau Lafite-Rothschild bottles, following the Bettane & Desseauve Master Class?
Prizes on offer this month include:
1st Prize:
A spot in the IWC's Super Taster I course, plus a bottle of Dom Perignon
2nd Prize:
A spot in the IWC's Super Taster I course, plus a bottle of Gonet-Medaville Arbonnay Blanc de Noir
3rd Prize:
A spot in the IWC's Super Taster I course.


Note: Entries must be received by 5pm 30th November. One entry per person. All correct entries will go into a draw and the winner will be notified by email.
Get In Touch
For further inquiries, please visit our web site http://www.iwinecentre.com or email admin@iwinecentre.com or telephone :(852) 2549 0181