Welcome to the IWC's March edition of Yummy News, your one-stop-shop for all things delicious, from wines to try, food and wine pairing, restaurant reviews, details of our latest tastings on offer and so much more.
ON THE GRAPEVINE
Kung Hei Fat Choi

Happy New Year of the Tiger to all Yummy News readers! The IWC hopes you had a wonderful Christmas, New Year and Chinese New Year and are ready for a fabulous year of palate pleasing delights!

Hellos & Goodbyes




Tersina with Simon and Michal Bettane

It is with sadness that the IWC has had to bid farewell to Eddie the Winemaker, who has had to return to Australia for an extended period of time for family reasons. Good news for the Alpine Valley region is that he'll also have lots of time to focus on developing his own wine label back in Oz. Eddie brought so much wisdom, fun and cutting edge knowledge to the IWC, and we wish him all the best.

IWC is extremely proud to introduce its new General Manager / Winemaker to Yummy News readers. Tersina Shieh was born and raised in Hong Kong, but has spent the best part of the last decade pursuing her passion for wine education and winemaking globally. She is a qualified winemaker and has vintaged in Portugal, South Africa and the UK. Tersina has a Masters Degree in Business Administration and Honors in Level 5 WSET Diploma. Tersina is also a passionate photographer and mad for all things Mac! Stay tuned for some yummy tastings with Tersina in the near future!

Exclusive Yummy Column from Michel Bettane and Thierry Desseauve

Always endeavouring to bring Yummy News readers all the best wine related information and tastings, IWC has partnered with French wine legends Michel Bettane and Thierry Desseauve and is extremely pleased to bring the most incredible French wine experience to Greater China wine lovers. Watch this space for a once in a lifetime tasting, wine tours and encounters with grand cru chateau owners and winemakers. Starting this month's Yummy News is an exclusive wine column from the legends themselves!
back to top
IWC TASTING & COURSES
2010 marks some exciting changes for IWC's wine education. Here's some of what we have coming up in the next three months – we hope to see many familiar faces (and newcomers) in our lovely all-glass tasting room in Sheung Wan:
Tasting Series 1: What Is Simon Drinking?
One of Simon's main jobs is to bring the many delicious wine treasures of the world that haven't hit Hong Kong shores yet to Yummy News readers and IWC students. So, if you are interested in tasting a Mexican Shiraz that'll give most Aussies a run for their money, the remnants of a 50% evaporated cask of 60 year old Sherry, forgotten bottles from abandoned communist cellars and so much more, this series is for you!
Next Course: 7:00-8:30pm 18 March
Old & Not So Old Reds From Around the World (Price: HK$1,000 per person).
Read more & book now
Tasting Series 2: The Complete Wine Tasting Course
You've got your certificates, you know where Bordeaux is, but how fine-tuned is your palate really? This all-encompassing practical wine course will see you walk away with solid tasting experience and the ability to taste the differences between fine wines from around the world! This course is suitable for those with sound wine tasting experience or who have received other formal qualifications in wine tasting.
Next Course: 7th May: 7:00-9:30pm / 8th May: 3:00-5:30pm / 14th May: 7:00-9:30pm
Format: 3 x 2.5 hour sessions. Price: HK$7500 per person.
Read more & book now
Tasting Series 3: Blend Your Own Bordeaux Challenge with Tersina the Winemaker
Team up with your clients, colleagues or friends to learn and compete in this fun blending challenge! Experiment with the world's prestigious varietals as you try your hand at the coveted profession of winemaking. Great for corporate team building, work groups or a unique night out with friends and fellow wine lovers. No experience required and you'll walk away with new tasting skills, enhanced wine knowledge and some great memories!
Price: HK$5,000 per team (3-4 people per team - maximum 4 teams). Available on demand.
Read more & book now

Email us or call us on (852) 2549 0081 to discuss your booking.
BETTANE & DESSEAUVE
Michel and Thierry talk on 2009 Bordeaux vintage

"I was the first in Europe to predict that the Bordeaux 1982 red wines would be the best for a long time to come. Robert Parker agreed, and the vintage became a legend. I have since tasted 1989, 1990, 2000, 2003, 2005 – all stylistically excellent but I was not convinced they would be on the same level as 1982, even if they were better made. But as soon as I sampled the first drops of 2009 I felt that something really great was on the way. Three months later, I am even surer of this. 2009 with the greatest imaginable merlots, cabernet sauvignons, cabernet francs, sauvignons and semillon (both dry and sweet which was not the case for the average 1982 sweet wines), will be the winner from among the last 50 vintages!"
TASTE THIS SPACE
Global Gulps

Simon and new IWC general manager/winemaker Tersina have been jet setting around the world over the last month or so (all in the name of wine, of course!), and have some hot off the press international wine updates and drops for you to try.

Simon's New Zealand trip to Pinot Noir 2010

New Zealand is rapidly emerging as one of the world's top Pinot Noir producers, with a suite of superb producers from Central Otago, Marlborough, Martinborough and Nelson. Pinot Noir 2010 saw winemakers, journalists and experts such as Oz Clark, Tim Atkins MW and, of course Simon, converge in beautiful Wellington for four days to muse and be amused by this elegant varietal.

Simon says, "Given the enormous organisational task and incredible pool of Pinot Noir news, it is probably a good thing that it is held only every three years. It will take that long to fully digest all the Pinot Noirs!"

Simon's suggests giving these beauties a whirl:

Felton Road Pinot Noir, Cental Otago
Wooing Tree Pinot Noir 2007, Central Otago (dual trophy winner in Cathay Pacific Hong Kong International Wine & Spirit Competition: "South China Morning Post Trophy for Best Pinot Noir" and "Best New World Pinot Noir")
Martinborough Vineyard Pinot Noir 2007, Martinborough
Neudorf Pinot Noir, Nelson


Simon with Oz Clarke


Simon with Tim Atkin MW

Tersina's Crush from Stellenbosch, South Africa

With the grape juice stains still fresh on her hands, Tersina has just arrived back to the Fragrant Harbour following a rigorous harvest in one of South Africa's premier winemaking regions, Stellenbosch.

Tersina says, "Beautiful setting and fantastic wines - that's Stellenbosch! There was very strong wind in November that destroyed some crops. Luckily, those which survived were pretty healthy and, thanks to the unusually coolish days at the beginning of harvest, the red grapes are able to ripen slowly (especially at Thelema where the vineyard is high on the slopes of the Simonsberg). This will no doubt give the wines more finesse and structure.

"Although I didn't stay for the entire harvest, I did monitor the entire fermentation of Verdelho and Pinot Noir, crushed over 70 tons of Chardonnay and Sauvignon Blanc, got stuck into the South African braai (BBQ) and had the most delicious carrot cake at Melissa."

Tersina recommends test driving these top drops:

Thelema The Mint Cabernet Sauvignon 2006
Rudi Schultz Syrah 2006
Vriesenhof Pinot Noir 2007 (just bottled)
Rijk's Private Cellar Shiraz 2003
YUMMY QUIZ
Big congrats
Hanif Kanji
who is the winner of the final 2009 IWC Quiz. Hanif correctly identified why Simon is smashing the empty Lafite bottles after the B&D workshops. The answer is to prevent the bottles being resold...an empty Lafite bottle in China can be sold for as much as US$200!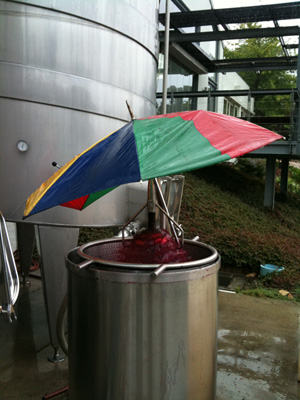 New Competition:
Tersina took this picture in Stellenbosch while doing vintage with Thelema. What's going on in this photo?
Prize:
Two bottles of wine from Simon's cellar (with all his global wine travels, you know you'll be in for a treat!)
Get In Touch
For further inquiries, please visit our web site http://www.iwinecentre.com or email admin@iwinecentre.com or telephone :(852) 2549 0181