Meet the IWC Team
Tersina Shieh
Lisa Perrotti-Brown MW
Ned Goodwin MW
Neal Martin
Bettane & Desseauve

The Independent Wine Centre team combines technical qualifications, hands on practical experience and cultural awareness to provide an unmatched range, depth and quality of service: corporate events, seminars, tutored tastings, private functions and more. Email us for further discussion.

Meet the team
FLAVOUR COLOURS
Ivory Flavour: Chicken marinated in ginger 沙姜雞
This is a Tan Flavour dish with multiple dimensions. The ingredients have an array of textures, and the chili and spices specifically extend the plate's flavour profile. It goes perfectly with a Rose Champagne, Adelaide Hills Shiraz or Alentejo White.

Check out this and more Chinese food and wine matches in Flavour Colours, our Chinese food and wine pairing iPhone/iPad App.
back to top
LE GRAND DAY OF INDULGENCE 2011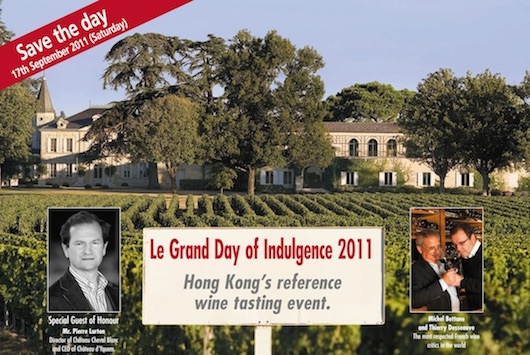 IWC and Bettane & Desseauve are once again proud to bring you Le Grand Day of Indulgence again this September, the Hong Kong's reference wine tasting event. This year's featured wine will be Chateau Cheval Blanc including the legendary vintages of 1967 and 1982. Mr Pierre Lurton, Director of Chateau Cheval Blanc and Chateau d'Yquem will be our guest of honour.
Date: 17th September (Saturday), 3:00pm till late
Place: Pool House, Grand Hyatt Hotel, Hong Kong
Only 20 seats left. HK$18,000 per person. Book now to avoid disappointment.
back to top
CRU EN PRIMEUR SUPPLEMENT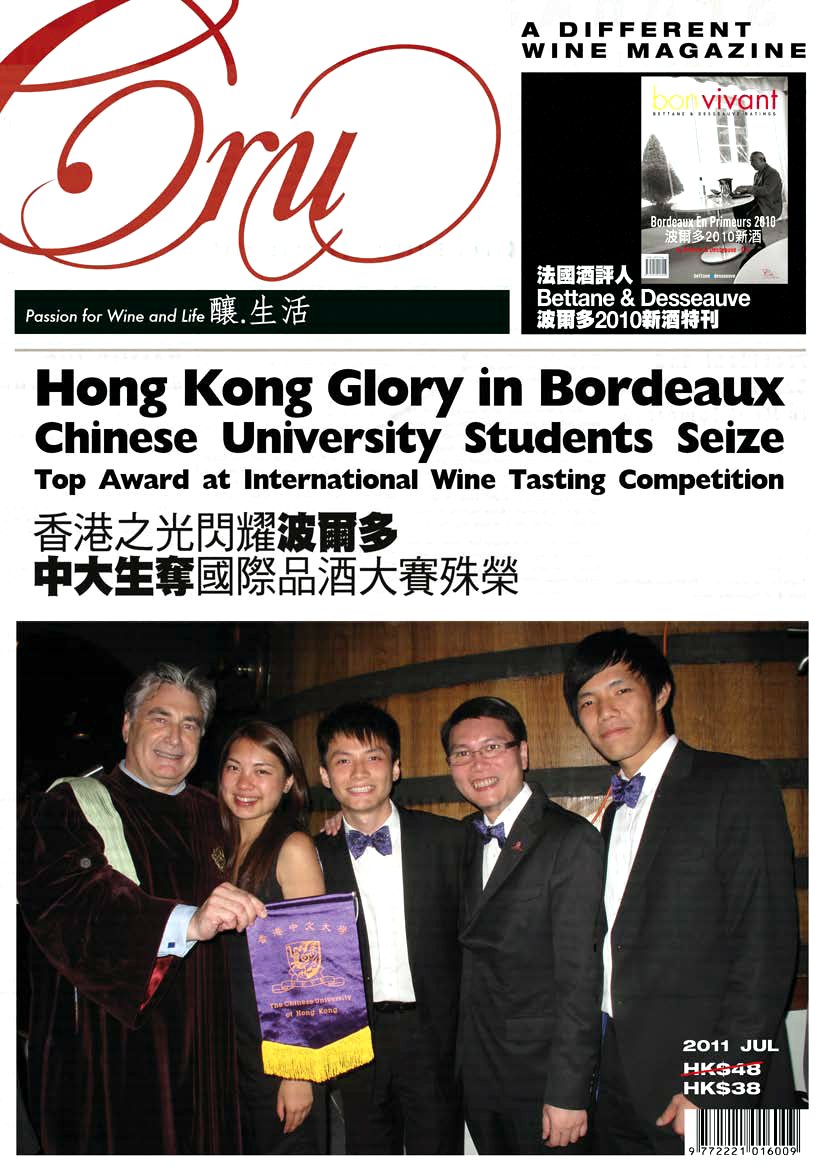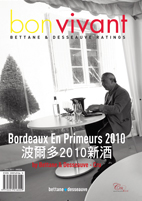 Bettane & Desseauve's 48-page Bordeaux En Primeurs 2010 supplement will be included in Cru Magazine's July issue. Featuring 120 tasting notes and scores, this is a must-read before deciding on your wine investments in what many consider is another great year. Pick up your Cru Magazine at major wine retailers, news stands and convenience stores.
back to top
WHAT'S IN THE GLASS
Did you know?

Old vines

The productivity of vines reach its peak when the vines are 10-15 years old. As they grow older, they bear fewer yet more concentrated fruits, resulting in better-quality wine. Vines over 100 years old may only be producing 100-150 grams of grapes per vine (a sheer percentage of the necessary minimum of 1kg of grapes per bottle) but the wines are intense, full of flavour, and more expressive of terroir. Try some Priorat reds made from 80-year-old-plus vines and you'll see what I mean.

Tersina has made wine in Portugal, South Africa and England. Follow her blog or email her for any wine queries.
Cape Mentelle Cabernet Sauvignon

'The best thing a winemaker can do to make the wine better is nothing,'says Robert Mann, the senior winemaker at Cape Mentelle. He learned this lesson during his six years at Hardy's, when the team tried to make every wine taste like Penfolds Grange and ended up over-extracting and over-oaking — basically over-making the wine. I'm sure a lot of winemakers would like to be in Robert's current position as he is making wine using some of the best grapes from the Margaret River. Try his Cabernet Sauvignon and see for yourself. Available from Moet Hennessy Diageo. Read more
Wine and Art

As most wine tastings are held in hotels or restaurants, it was a welcome change when Summergate held its recent Life I Wine event in The Space, an art gallery on Hollywood Road. The wines were arranged by country in three separate areas dotted with photographs and various displays. This was a great concept and it would be nice see it taken further — perhaps a tasting at the Hong Kong Arts Centre, where art can be more prominently displayed and guests have more space between the tasting sections to better appreciate the art?

I didn't taste all the wines, but the Castello dell Sala, Umbria IGT 2007 stood out. Available from Summergate.  Read more
back to top
MASTERS OF WINE INSIGHTS
Lisa Perrotti-Brown MW
Lisa, "I don't think I'm exaggerating when I say that April is Global Wine Event Month. I kick the month off in Tokyo hosting some A+ Wine Australia masterclasses. Then there's the Bordeaux UGC / En Primeur tastings followed by Vinitaly, if that's your flavour, otherwise we have BurgHound's Allen Meadows doing a run of posh Pinot tastings in Singapore followed closely by Singapore's World Gourmet Summit featuring Domaine de Chevalier, JJ Prum, Pio Cesare, Champagne Crystal, Araujo and Domaine de Pegau...just to name a few. If you aren't drinking well in April, then you're just not drinking wine!"
Ned Goodwin MW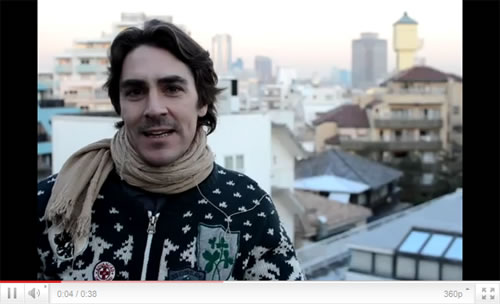 Ned, 'When drinking wine ask yourself if you would like another glass, or perhaps another. If one is naturally inclined to drink a third glass, it is proof that a wine is balanced and clearly, for me at least, delicious.'
back to top
NEAL MARTIN'S JOURNAL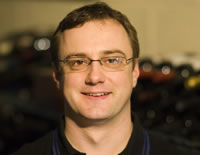 IWC is delighted to introduce Hong Kong wine lovers to Neal Martin, an internationally acclaimed wine writer. We will feature Neal's humorous yet informative wine diary on our website. Here is an excerpt from the latest entry:
The Vines that stood their ground: Laville, Mission & Haut-Brion
In a somewhat solipsistic seaside town I enjoyed a blissful, parochial childhood, oblivious to anything much further than the A13. Like the toy-towns on TV, I grew up convinced that everything in Southend-on-Sea would remain the same, at least until the end of time. C&A at the entrance of the Victoria Shopping Centre, Tomassi's ice-cream parlour at the bottom, Keddies the grand department store its centre of gravity, the magical toy shop opposite Dixons and Lavelle's the stationers, where I would buy my weekly Beano with a packet of Pacers. I assumed that this conjugation of retail outlets had been in situ since time immemorial until one day, mum broke the news…"Lavelles is closing down," she told me casually. "That is why some of the shelves are empty."  .... read more
BETTANE & DESSEAUVE ON FRENCH WINE
Are Organic Wines Better Than Non-Organic?

There is a good deal of misunderstanding about the notion of 'organic' wines, deliberately perpetuated by certain wine professionals and journalists who are not always independent of the production and sale of those wines. If we are talking about organic or biodynamic viticulture, with precise growing conditions and rigorous, reliable certification, then the term 'organic wine' is an abuse of the language and we should really call it 'wine from organically grown grapes'—because, by definition, all wines are organic, being made by microorganisms living in the ferment.

As regards the quality of organically grown grapes, if the viticulture is done properly then of course they will exhibit more natural and complex characters derived from the terroir and the vintage, and so will be higher quality raw material for the future wine. However, the wine itself still needs to be well made, meaning that it should express as closely as possible all the information contained in the original grapes. And that is where the trouble often starts with 'organic' winemakers. Believing that only wild yeasts are worthy of fermenting their wine and that adding sulphur can only destroy the moral purity of their product, they often end up with unstable wine. And not just in appearance—often cloudy or opaque—but also in taste, with volatile acidity, inelegant aromas, and above all the loss of the individuality of their origin, each change in the underlying fruitiness of the grapes affecting everything else. For among wild yeasts there are both good and bad, and the bad are likely to prevail over the good by the end of the fermentation if sulphur is not used to prevent the bad killing the good in the first place.

Of course, when everything goes well, these 'natural' wines can have incomparable purity and taste. But for every good one how many bad ones do we have to suffer, notwithstanding all the paternal affection heaped upon them by illustrious winemakers, sommeliers, journalists, chefs and wine merchants? At least we can rejoice that the great biodynamic wine farmers of France—Humbrecht, Leroy, Leflaive, Morey, Lafon, Viret, Perrin and so on—are also winemakers who are well aware of the need for control and precision when making a 'noble' product.

Click here for more Bettane & Desseauve's answers to 2009 Bordeaux questions
IWC TASTING AND COURSES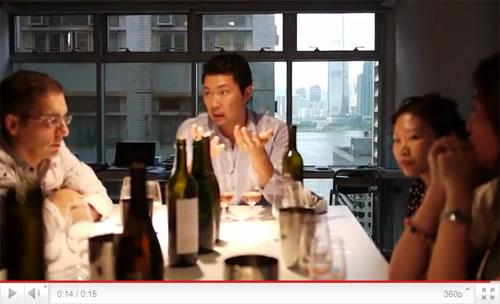 Get your friends and family together for a private tasting or wine course. IWC can tailor and personalise any tasting or course that suits your interest and schedule. Each session lasts for two hours and can accommodate a maximum of six people. Each tasting includes a minimum of eight wines. Some of our most popular themes are:
Introduction to Wine: HK$12,000
New World vs Old World Cabernet Sauvignon: HK$14,000
Bordeaux Masterclass: HK$18,000
Vintage Champagne Tasting: HK$15,000
Red Burgundy Masterclass: HK$22,000
Sweet wine of the World: HK$15,000
Call us to make a booking or discuss your favourite wine region.
TASTE THIS SPACE
Giovanna Rizzolio and Italo Sobrino of Cascina delle Rose talk about their Barberesco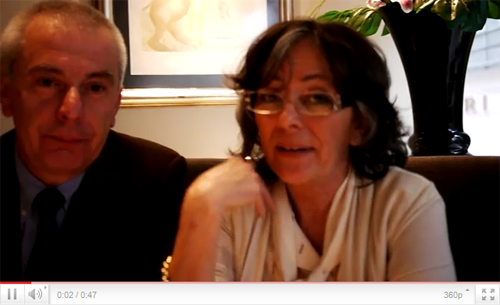 YUMMY QUIZ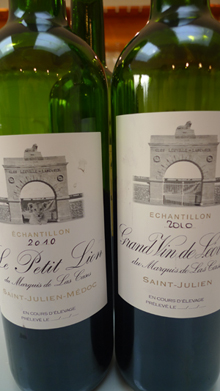 Last month's question: "The undervine area is bare, why?" We received overwhelming responses and we have decided that the winner is Michael Keen, who gave the most to-the-point answer: "1. They keep the area under the vines bare to help control pest by removing areas for them to shelter; 2. It is also done to help deliver water and fertilizers/pesticides effectively and efficiently to vines; 3. Finally it helps reduce the moisture levels under the vines helping control botrytis and other fungal infections/rot."
Well done Michael, you have won a mystery bottle from IWC's cellar.
This month's question:
Spot the difference between these two labels.
Prize: A bottle of wine from IWC's cellar (with all our global wine friends, you know you'll be in for a treat!)
Get In Touch
For further inquiries, please visit our website, email, or telephone: (852) 2549 0081