Meet the IWC Team
Tersina Shieh
Lisa Perrotti-Brown MW
Ned Goodwin MW
Neal Martin
Bettane & Desseauve

The Independent Wine Centre team combines technical qualifications, hands on practical experience and cultural awareness to provide an unmatched range, depth and quality of service: corporate events, seminars, tutored tastings, private functions and more. Email us for further discussion.

Meet the team
IN THIS ISSUE
FLAVOUR COLOURS
Blond Flavour: Chilled red crab Chiuchow style 潮州凍蟹
The freshness of crab is accentuated by the simple steamed cooking method. The meat is sweet, fragrant and tastes of the ocean, one of the best illustrations of a Blond flavour dish. Goes well with a Blanc de Blanc sparkling wine, a Rheingau Riesling from Germany or a slightly chilled Beaujolais from Fleurie. Just because this is a seafood doesn't mean the wine has to be a white!

Check out this and more Chinese food and wine matches in Flavour Colours, our Chinese food and wine pairing iPhone/iPad App.




Ivory Flavour : Cantonese cuisine with South African whites


South African wine is as diverse as Chinese cuisine. A selection of Cantonese dishes: Siu-mai (pork dumpling), steamed chicken and fresh sliced abalone were paired with nine SA wines, including Cap Classique, Chenin Blanc and Chardonnay at the recent 'Celebrate South Africa' masterclass, with over 60 guests from the F&B and wine trade.

All these dishes and wines are in the Ivory Flavour Colours zone so they all matched well. Guests agreed and here are some of their comments: the bubbles in Cap Classique accentuate the fragrance of the fresh abalone; the richness of Chenin Blanc complements the texture of siu-mai; the lightly-flavoured chicken was perfect with the Chardonnay. Read more



back to top
LE GRAND DAY OF INDULGENCE 2011 UPDATE

In addition to the already prestige line up, we managed to secure additional vintages: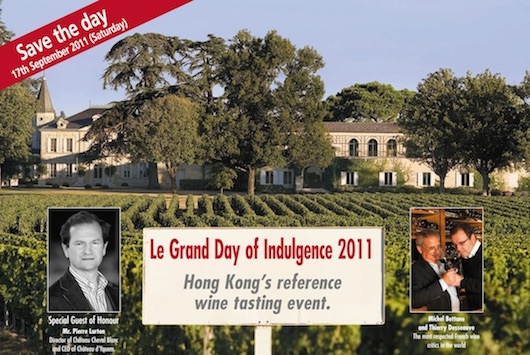 Chateau Cheval Blanc: 1967, 1975, 1982, 1990, 1998, 2000 and 2001, and Le Petit Cheval 2001 and 2006.
Dom Perignon: Oenotheque 1969 and 1975, Comparative tasting of Vintage and Oenotheque 1996, Rose 2000 and Vintage 2002.
The tasting will be followed by a Chinese Celebration dinner paired with fine wines from Bordeaux and Burgundy.

Speakers: Michel Bettane and Thierry Desseauve
Guest of honour: Mr Pierre Lurton, Director of Chateau Cheval Blanc and Chateau d'Yquem
Date: 17th September (Saturday), 3:00pm till late
Place: Pool House, Grand Hyatt Hotel, Hong Kong
Only 5 seats left. HK$18,000 per person. Book now to avoid disappointment. Read more
back to top
WHAT'S IN THE GLASS
Did you know?

Length

Length is a sign of quality in wine. According to Paul Mason from Martinborough Vineyard, it is linked to vine age: the older the vines, the more concentrated the fruit, giving more fruit weight to the wine on palate. For this reason wine from a high yield crop will lack length because the fruit is not concentrated enough. Another factor impacting length is the extraction of fruit tannin in post fermentation maceration, which is important in giving wine the back palate it needs to carry the fruit weight through.

Tersina has made wine in Portugal, South Africa and England. Follow her blog or email her for any wine queries.
Judgment Tasting

There have been a few judgment tastings in Hong Kong lately. The most recent was New Zealand Gimblett Gravels 2009 versus Bordeaux 2008, organised by the Gimblett Gravels Winegrowers Association. Mission Estate's Jewelstone Cabernet Merlot (available from Watson's) was ranked third after Ch Mouton Rothschild and Ch Haut-Brion. The tasting was led by Lisa Perrotti-Brown MW and Rod Easthope of Craggy Range. The 30+ participants were experienced tasters including media from Asia (Hong Kong, China, Taiwan and Singapore), sommeliers, F&B directors and serious wine lovers. Their verdict: the Gimblett Gravels wines were of a comparable quality to the Bordeaux, and, in terms of value for money, Gimblett Gravels beat top growth Bordeaux hands down. Read more.

Cape Mentelle also held an International Cabernet Tasting in May that included Bordeaux classed growths, Super Tuscans, iconic Napa, Margaret River and of course Cape Mentelle (available from Moet Hennessy Diageo). While no rankings were requested, guests were impressed with the quality of the Margaret River Cabernets.

The best New World wines have certainly moved a long way from a predictable fruit-driven, oaky style to something more complex and subtle. This will only benefit wine lovers as we can now enjoy some great wine without breaking the bank.
Passion for Pinot
Pinot can be in many shapes, from elegant Burgundy to the oaky California and with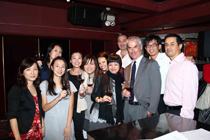 everything in between. Altaya provided a perfect opportunity for us to try different styles of Pinots in one setting at their recent 'Passion for Pinot' tasting. Churton (Marlborough) and Beaux Freres (Willimette Valley) are both biodynamic but the later displays more structure on palate; while Gladstone (Wairarapa) is concentrated and intense, reminded me of the Martinborough style but more accessible, and it is a steal at less than $200/bottle. Vincent Girardin (Burgundy) is a perfect demonstration of how diverse Burgundy can be from different appellations and villages. If I had to choose one grape variety for the next 10 years, Pinot is probably my choice. Available from Altaya.
back to top
MASTERS OF WINE INSIGHTS
Lisa Perrotti-Brown MW
Lisa, "I don't think I'm exaggerating when I say that April is Global Wine Event Month. I kick the month off in Tokyo hosting some A+ Wine Australia masterclasses. Then there's the Bordeaux UGC / En Primeur tastings followed by Vinitaly, if that's your flavour, otherwise we have BurgHound's Allen Meadows doing a run of posh Pinot tastings in Singapore followed closely by Singapore's World Gourmet Summit featuring Domaine de Chevalier, JJ Prum, Pio Cesare, Champagne Crystal, Araujo and Domaine de Pegau...just to name a few. If you aren't drinking well in April, then you're just not drinking wine!"
Ned Goodwin MW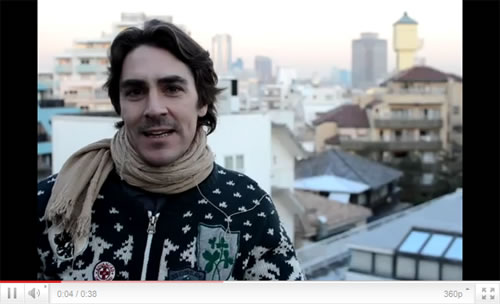 Ned, 'When drinking wine ask yourself if you would like another glass, or perhaps another. If one is naturally inclined to drink a third glass, it is proof that a wine is balanced and clearly, for me at least, delicious.'
back to top
NEAL MARTIN'S JOURNAL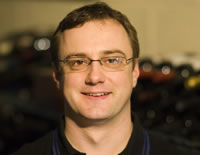 IWC is delighted to introduce Hong Kong wine lovers to Neal Martin, an internationally acclaimed wine writer. We will feature Neal's humorous yet informative wine diary on our website. Here is an excerpt from the latest entry:
The Vines that stood their ground: Laville, Mission & Haut-Brion
In a somewhat solipsistic seaside town I enjoyed a blissful, parochial childhood, oblivious to anything much further than the A13. Like the toy-towns on TV, I grew up convinced that everything in Southend-on-Sea would remain the same, at least until the end of time. C&A at the entrance of the Victoria Shopping Centre, Tomassi's ice-cream parlour at the bottom, Keddies the grand department store its centre of gravity, the magical toy shop opposite Dixons and Lavelle's the stationers, where I would buy my weekly Beano with a packet of Pacers. I assumed that this conjugation of retail outlets had been in situ since time immemorial until one day, mum broke the news…"Lavelles is closing down," she told me casually. "That is why some of the shelves are empty."  .... read more
BETTANE & DESSEAUVE ON FRENCH WINE
Is there such a thing as universal taste?

We all know the saying 'there's no accounting for taste', which seems to confirm the latest scientific research showing that the perception of flavour and its translation into thought and words derive from the original genetic make-up of each individual. So there is no universal taste and no guru able to impose his taste on the whole planet. Yet every day we see evidence to the contrary. For nature isn't everything and societies create fashions and behaviours that challenge our innate senses. Gastronomy forms part of our 'cultural' constructions that depend largely on history, the evolution of our way of life, dreams, desires and even fantasies that go beyond our instinctive reactions, not to mention the learning of norms that help us place ourselves in our time and society. So wine tasting is learned and changes with the times. When game and pickles were the basis for most meals we needed very full-bodied, tannic wines to help us digest the fat. Molecular avant-garde cuisine obviously doesn't go with those and instead favours sparkling wines or delicately aromatic whites. Asian spices and the sweet and sour sauces that use them to the full will certainly bring back into fashion the semi dry wines that nouvelle cuisine's refined cooking of fish and shellfish had rendered obsolete. That doesn't prevent micro variations among the macro trends based on individual sensibilities. Yes you can find more people drinking organic and 'sulphur-free' wines, but some prefer the more northerly variants to those of the south and some the opposite. Some might like pale rosés for their easy drinking and conviviality; others might consider them too neutral and prefer the more vinous 'clairets' that are closer to a red wine. You may delight in very aromatic whites or judge them too saturated. You may prefer wines with a mineral expression while others find them austere or even unpleasant. There is no reason to fear a standardisation of taste, and the incredible diversity of French wine's heritage is not readily simplified, except perhaps in the realm of grand luxe wines where the conservatism of the customer base could foster simplistic stereotypes. But for now that's still not the case.

Click here for more Bettane & Desseauve's answers to 2009 Bordeaux questions
IWC TASTING AND COURSES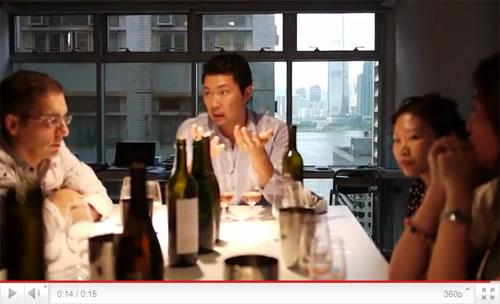 Get your friends and family together for a private tasting or wine course. IWC can tailor and personalise any tasting or course that suits your interest and schedule. Each session lasts for two hours and can accommodate a maximum of six people. Each tasting includes a minimum of eight wines. Some of our most popular themes are:
Introduction to Wine: HK$12,000
New World vs Old World Cabernet Sauvignon: HK$14,000
Bordeaux Masterclass: HK$18,000
Vintage Champagne Tasting: HK$15,000
Red Burgundy Masterclass: HK$22,000
Sweet wine of the World: HK$15,000
Call us to make a booking or discuss your favourite wine region.
TASTE THIS SPACE
Lenz Moser of Laurenz V compares Grüner Veltliner to a combination of Riesling, Sauvingnon Blanc and Pinot Grigio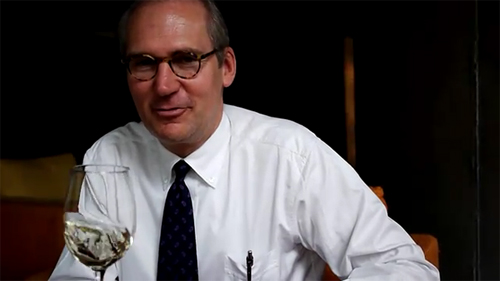 YUMMY QUIZ

Last month's question: "Spot the difference between these two labels." An easy question to most judging from the number of answers we received. Some readers even gave us the history and the blend of the wine! We have decided that the winner is Christina Tang, who gave the most concise answer.
Well done Christina, you have won a mystery bottle from IWC's cellar.

This month's question:
Where can this mosaic be found?
Prize: A bottle of wine from IWC's cellar (with all our global wine friends, you know you'll be in for a treat!)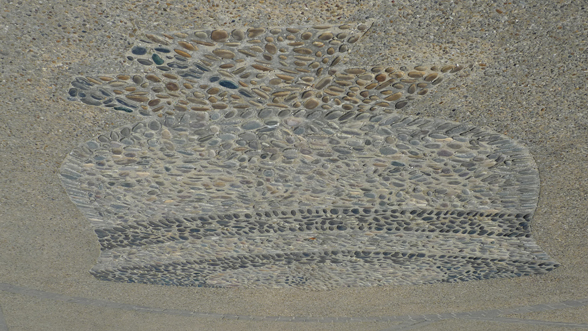 Get In Touch
For further inquiries, please visit our website, email, or telephone: (852) 2549 0081