Meet the IWC Team
Tersina Shieh
Lisa Perrotti-Brown MW
Ned Goodwin MW
Neal Martin
Bettane & Desseauve

The Independent Wine Centre team combines technical qualifications, hands on practical experience and cultural awareness to provide an unmatched range, depth and quality of service: corporate events, seminars, tutored tastings, private functions and more. Email us for further discussion.

Meet the team
FLAVOUR COLOURS
Ivory: Suckling pig 化皮乳豬


Most people may think suckling pig, with its fat and crispy skin, is a heavier dish that goes best with red wine. Actually it is surprisingly delicate, especially if you dip it in sugar and mustard, which adds extra dimensions of flavour and cuts away the fat. The best wine to go with it will be a nice Chardonnay from Margaret River, New Zealand or (of course), Burgundy. If you insist on red, try Pinot Noir or Dolcetto.

Check out this and more Chinese food and wine matches in Flavour Colours, our Chinese food and wine pairing iPhone/iPad App.
back to top
WHAT'S IN THE GLASS
Did you know?

Residual sugar


Sugar in grapes is converted into alcohol during the fermentation process, at a rate of approximately 16.5g/l of sugar to 1% alcohol. If sugar is not fermented completely, residual sugar will be left behind, contributing to the sweetness. Under normal circumstances, grapes are harvested when the sugar level is between 180g/l and 230g/l. Therefore, a German Kabinett Riesling with 8% alcohol will have approximately 40g/l residual sugar. For sweet wine, sugar in grapes is concentrated by dehydration (eg. noble rot wine, ice wine, straw wine). The sugar level may reach over 300g/l before fermentation, resulting in wine with 12% alcohol and 100g/l residual sugar. Fermentation may stop naturally or be deliberately stopped by the winemaker. Winemakers may add 2-5g/l süssreserve (concentrated grape juice) to dry wine for a more pleasing palate.

Tersina has made wine in Portugal, South Africa and England. Follow her blog or email her for any wine queries.
Appreciating Riesling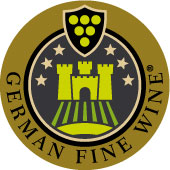 Attendees at the recent 'A Riesling Journey into Summer' masterclass led by Carsten Klane from German Fine Wine and Clemens Busch, a biodynamic winemaker from Mosel, were pleased to learn the different impact of slates (blue, red and grey) on the structure and fruit profile of Riesling. We also tasted German Riesling alongside Rieslings from Alsace and Australia, and the differences were obvious. German Riesling has a tighter and leaner structure, especially the Mosels which can be steely, while Alsatian Riesling is bolder. Australian Riesling is generous but lacks the subtlety of those from the Old World when sipping side by side. In the evening, Carsten and Clemens invited wine lovers to try different Rieslings with various Chinese canapés, including some classic pairings such as sautéed chicken in chilli sauce with Riesling Spatlese and Auslese; and some creative parings like Peking duck with Grosses Gewächs dry Riesling from Pfalz. Guests praised the tasting as an eye opener to the diversified styles of German Riesling. Wines available at German Fine Wine. Read more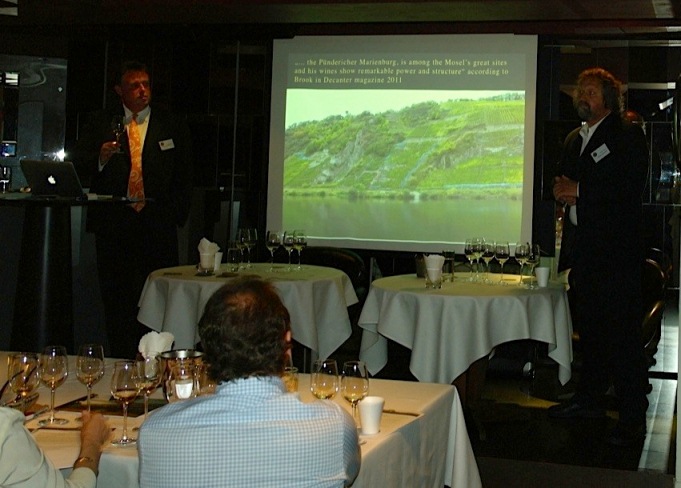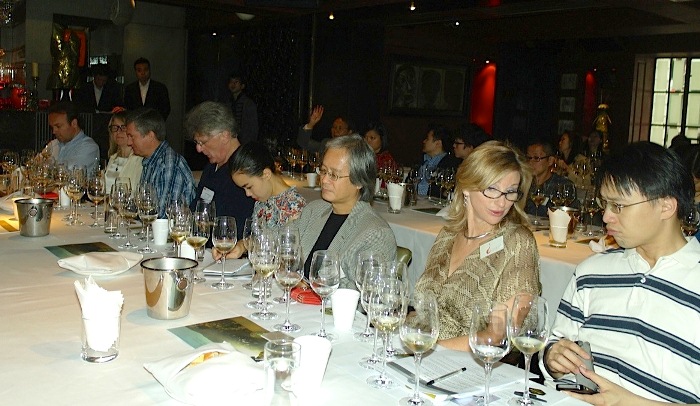 The pairings for the evening were:
The Douro Boys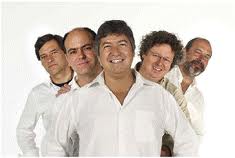 Apart from port, the next best thing from the Douro (or indeed Portugal) from a wine perspective is probably the Douro Boys. An alliance of five independent family estates: Quinta do Vallado, Quinta do Crasto, Quinta do Vale D. Maria, Quinta do Vale Meão and Niepoort, Douro Boys was created in 2003 to 'put the Douro on the map'. The light-heartedness of the group's name contrasts nicely with the considerable avoirdupois (weight) of its members: dynamism and determination. They are accessible but the wines are serious. Each quinta has its own style and together they offer a good breadth of selection. With their energy, enthusiasm and commitment, they trot the globe, reviving the Douro image and in fact raising the overall quality standard of Douro wine. The international press writes about them with passion; critics rate their wines with respect and wine lovers, well, just love their wines. Read more

Try yourself to see which of the Douro Boys is your style. Distributor of:
back to top
TASTE THIS SPACE
Justin Nugent from Bird in Hand talks about his the award winning sparkling Pinot Noir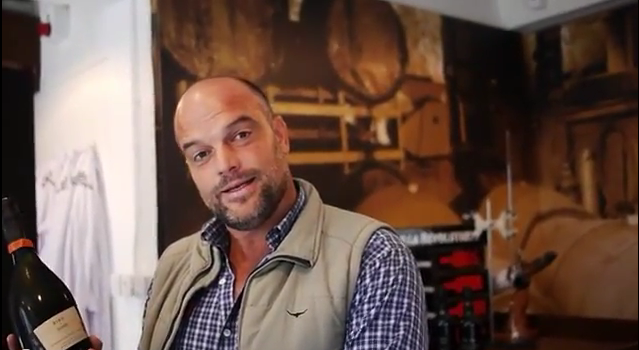 BETTANE & DESSEAUVE ON FRENCH WINE REGION
Alsace

This captivating region has many similarities to its German neighbour to the East, and produces some of the best white wines France has to offer. The character of the grape varieties that excel here is unmistakable- the elegance of Riesling, the exuberance of Gewürztraminer, the depth of Pinot Gris and even the easy going character of Sylvaner. Whether they be dry or late harvest wines, the characteristics of the grapes come through with brilliance in the region, though it is easy to get lost in the labyrinth of the appellation system here. One thing is for sure; the Grand Cru wines of Alsace are among the best white wines in the world.

There are two categories of Alsace AOC wines:


| | |
| --- | --- |
| | AOC Alsace: followed by the name of the approved varietal where wines are exclusively produced |
| | from a single grape variety. |
| | AOC Alsace Grand Cru: followed by the name of one of the four approved noble varietals (Riesling, |
| | Pinot Gris, Muscat, Gewurztraminer) and one of the fifty-one official grands cru titles, including the |
| | recently added Kaefferkopf Grand Cru. |




The designations 'Alsace Vendanges Tardives' and 'Alsace Sélection de Grains Nobles' refer to quality wines that are made from very ripe grapes in accordance with strict growing, winemaking and tasting procedures. Vendanges Tardives wines are produced from naturally sugar-rich fruit that gives them superior body and ageing potential. They usually retain a small quantity of residual sugar which limits their food-friendliness. Sélections de Grains Nobles wines, as their name suggests, are based on grapes enriched by Noble Rot and can compete with the greatest dessert wines in the world. Chaptalization (the addition of sugar to the grape juice in order to increase alcohol levels) is not permitted for either of these wines - a feature that makes them unique among French wines. Crémant d'Alsace is a sparkling wine made in a fashion identical to Champagne.

The varietals are the basis of Alsace wine production, but the terroir plays a key role in the top-end wines. The recognition of that role came much later than elsewhere in France. Today there is a policy of identifying wines by the lieudit (place name) and commune of origin. The fifty best lieuxdits (place names) having even been promoted to grand cru status. The most fruit-forward wines come from granitic, sandy soils, such as those deposited in alluvial zones (on the Colmar plain, for instance). Sandstone soils tend to give a mineral quality to the wines, though clay-limestone soils produce an even more accentuated minerality and often need more time to develop in bottle. Schistose and volcanic soils favour the development of intensely aromatic, complex grapes that produce decidedly memorable wines.

Click here for Bettane & Desseauve's ratings on 2010 Bordeaux.
MASTERS OF WINE INSIGHTS
Lisa Perrotti-Brown MW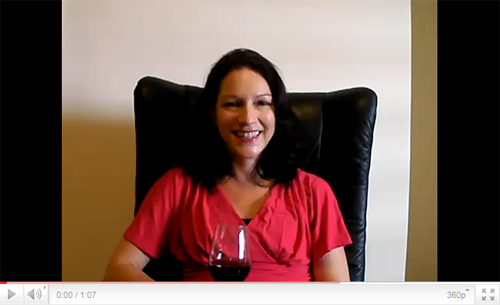 Lisa, "Where I come from in Maine, USA, we have this saying: "March is in like a lion and out like a lamb," in reference to the weather – the harsh winter giving way to a gentle spring. In the southern hemisphere of course the phrase should be swapped, but wherever you are it's a time for change. So shake off your old tried and trusted wines styles and reach for something new! My tip: New Zealand aromatic varietals (Riesling, Pinot Gris and Gewürztraminer)...they're really coming of age."
Ned Goodwin MW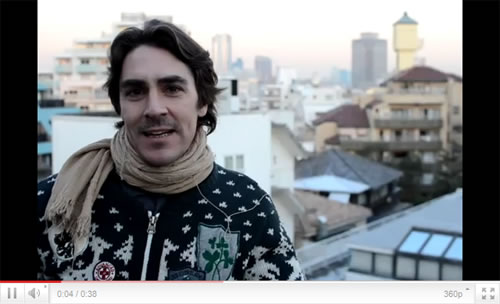 Ned, 'When drinking wine ask yourself if you would like another glass, or perhaps another. If one is naturally inclined to drink a third glass, it is proof that a wine is balanced and clearly, for me at least, delicious.'
back to top
NEAL MARTIN'S JOURNAL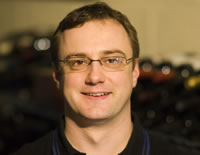 IWC is delighted to introduce Hong Kong wine lovers to Neal Martin, an internationally acclaimed wine writer. We will feature Neal's humorous yet informative wine diary on our website. Here is an excerpt from the latest entry:
The Vines that stood their ground: Laville, Mission & Haut-Brion
In a somewhat solipsistic seaside town I enjoyed a blissful, parochial childhood, oblivious to anything much further than the A13. Like the toy-towns on TV, I grew up convinced that everything in Southend-on-Sea would remain the same, at least until the end of time. C&A at the entrance of the Victoria Shopping Centre, Tomassi's ice-cream parlour at the bottom, Keddies the grand department store its centre of gravity, the magical toy shop opposite Dixons and Lavelle's the stationers, where I would buy my weekly Beano with a packet of Pacers. I assumed that this conjugation of retail outlets had been in situ since time immemorial until one day, mum broke the news…"Lavelles is closing down," she told me casually. "That is why some of the shelves are empty." .... read more
IWC TASTING AND COURSES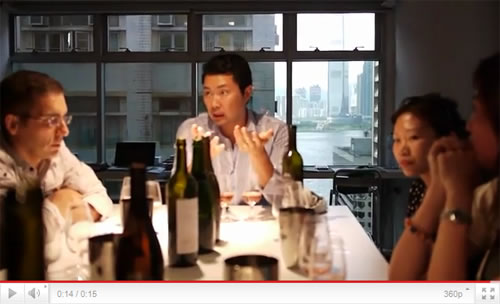 Get your friends and family together for a private tasting or wine course. IWC can tailor and personalise any tasting or course that suits your interest and schedule. Each session lasts for two hours and can accommodate a maximum of six people. Each tasting includes a minimum of eight wines. Some of our most popular themes are:
| | |
| --- | --- |
| | Introduction to Wine: HK$12,000 |
| | New World vs Old World Cabernet Sauvignon: HK$14,000 |
| | Bordeaux Masterclass: HK$18,000 |
| | Vintage Champagne Tasting: HK$15,000 |
| | Red Burgundy Masterclass: HK$22,000 |
| | Sweet wine of the World: HK$15,000 |

Call us to make a booking or discuss your favourite wine region.
YUMMY QUIZ
Last month's question was: "Which construction is this?" The correct answer was Cheval Blanc. We have an over-whelming response and a random draw picked Phil Brodie, winemaker of Te Mata in New Zealand as the winner. Well done Phil, you have won a mystery bottle from the IWC cellar. Please let us know next time you are in town to claim your prize.
This month's question:
"All rosés are from the same region, what is the region?"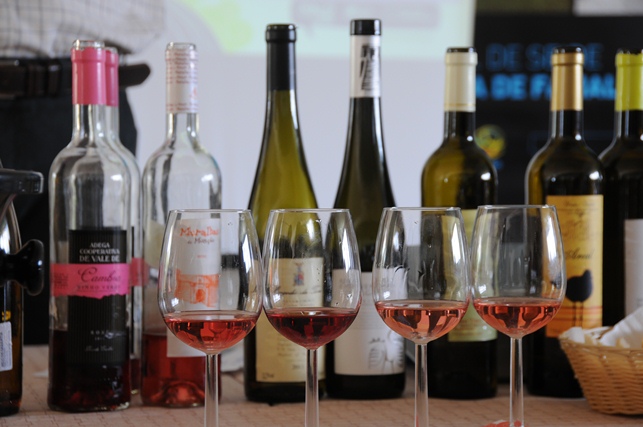 Prize: A bottle of wine from IWC's cellar (with all our global wine friends, you know you'll be in for a treat!)
Get In Touch
For further inquiries, please visit our website, email, or telephone: (852) 2549 0081