Corporate events: Education and Entertainment
Impress your clients and colleagues and friends with unique wine events and tastings conducted by winemakers.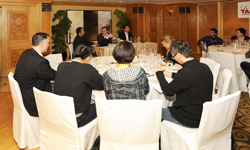 There is something about wine...almost everyone has an opinion about it and even those with little or no knowledge are invariably interested in learning more. Some even become quite competitive - perfect for your in-house team-building event (see the 'Blend Your Own Bordeaux' Challenge below). But whether it is a cocktail party, a cosy dinner engagement, a big annual dinner, an important client relationship event or an in-house team building session, there are few better ways of generating a lively discussion than to have a recognised expert guide your gathering through the highways and byways of the immensely complex and subtle world of wine.
We will work with you to develop a theme appropriate to your event and help you with the arrangements.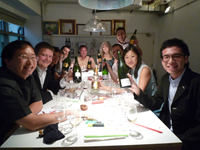 The number of possible themes is endless. How about these to get you thinking?
Vertical tasting:

compare a single Bordeaux label across five different vintages

Horizontal tasting:

compare five Barolos from the same vintage

Food and wine pairing:

dispel the myth that wine doesn't go with Chinese food

Wine faults:

is that wine really corked?
We can run events in Hong Kong, Macau, Shanghai, Beijing, or elsewhere. No matter whether your gathering is of four people or four hundred, get in touch and let us see what we can do for you.
Blend Your Own Bordeaux Challenge
Team up with your clients, colleagues or friends to learn and compete in this fun blending challenge!
Experiment with Bordeaux's prestigious varietals as you try your hand at the coveted profession of winemaking. Great for corporate team building, work groups or a unique night out with friends and fellow wine lovers. No experience required, and you'll walk away with new tasting skills, enhanced wine knowledge and some great memories!


Format: 3-4 persons/team. Maximum 8 teams.
We hosted the Challenge for the Luxe Dining editorial team. Click here to see what they had to say (contents provided courtesy of Luxe Dining)
Contact us for booking or further discussion.