Simon joins Christie's as Head of Wine, China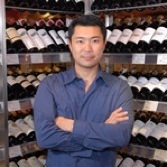 Based in Hong Kong, Simon Tam will be responsible for developing Christie's wine sales in Asia, with particular focus on client relationships in Greater China. Reporting to Charles Curtis MW, Head of Wine for Asia, Simon will work closely with the company's established wine teams in Amsterdam, Geneva, London, Paris and New York.
In 1999, Christie's was the first international auction house to organise a wine auction in Hong Kong and today has the largest and most experienced team in the world. Christie's also holds the world record price for the most expensive single bottle of wine ever sold at auction: US$305,000 for a unique Impériale (6 litres/8 bottles) of Château Cheval Blanc 1947.
A pioneer educator, communicator and wine consultant in Greater China, Simon has over 20 years of experience developing and nurturing the Chinese Wine Market. A highly specialised award-winning consultant to the wine industry, Simon was voted "The Best Wine Consultant" by UK's Wine Business International magazine.
He is the founder of the Independent Wine Centre in Hong Kong and Shanghai, Founding Chairman of the Greater China Wine Critics Association and co-founding director of Cathay Pacific Hong Kong International Wine and Spirits Competition. In addition, Simon serves on several Hong Kong SAR government advisory committees related to the wine industry and is a member of numerous professional groups including the Chaine des Rotisseurs, Chevalier de Ordre des Coteaux de Champagne. As an active columnist and speaker, he regularly writes for international media and has spoken at major wine conferences worldwide such as VINEXPO and the London International Wine Fair.
He also created an iPhone/iPad app "Flavour Colours" - the world's first Chinese food and wine pairing app.
Simon graduated from Regency and Roseworthy Colleges in Australia in Hospitality Management and Wine Marketing. He is fluent in English, Cantonese and Mandarin.