Flavour Colours, a Chinese food and Wine pairing iPhone/iPad app
by Simon Tam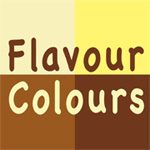 The Flavour Colours pairing concept is the brainchild of Simon Tam, a leading Greater China-based food and wine expert. The principles of Flavour Colours consider taste holistically: not just the science of four basic flavours but also seasonality, our mood and our individual expectations of what will make a good match.
Flavour Colours divides wine and food flavours into just four categories: Blond, Ivory, Tan and Brown.
By accurately defining which colour tone each food and wine belong to, pairing them is made simple and 90% accurate. It is intrinsically delicious and it will work for you time after time.
The Blond Flavour Colour brings to mind the zestiness of fresh lemon, delicate white flower blossoms, an invigorating sunny day with gentle sea breezes. The freshness of young Riesling and vividness of fruity Sauvignon Blanc. Steamed fish with heady ginger or the penetrating freshness of green peppercorn.

Ivory brings fresh core flavours that are extended and layered with other flavours' freshness. Shredded ginger with steamed pork dumplings and garoupa fillets with sweet corn are perfect examples. The Ivory Flavour Colour is seamless and easy to love. The complex structure and balanced flavours of a great white Burgundy and the fragrant richness of a New Zealand Pinot Gris exemplify the core of the Chinese flavour culture.

Tan is sensual and real. The flavours are as deep as they are wide, but never intense. Tan Flavour Colours are also very textural. A top Pinot Noir or matured Champagne is the perfect match for braised Chinese mushrooms or garlic king prawns. They give us a sense of contentment. We need a warm jacket and Tan Flavour Colours on a cold day or just a long day at the office.

The Brown Flavour Colour offers warmth, a sense of safety and comfort. It is fulfilling and satisfying. It is a heartiness that feeds the soul. A matured old red, dark chocolate truffles, braised ox tail, the scent of an old leather Chesterfield and exotic spices of cigars are all Brown Flavour Colour.

Anytime Anywhere
You're in a Chinese restaurant and you're thinking of ordering Chicken in clay pot. But what wine will go with it? In a few seconds you can select Chicken in clay pot in Flavour Colours and it will give you a list of 5 suggested matching wines. If the restaurant doesn't have those wines, tap a button and another 5 will be listed. Even if the wine list is very limited you will quickly find something that matches.
You're in a wine shop and you want to buy a French Burgundy. But what dishes might you prepare that would match it? Again, you can rapidly look up the wine in Flavour Colours and it will give you 5 suggested matching dishes. Don't like those suggestions? Tap the button for another 5.
Flavour Colours is just this simple and it works in the real world. Download from the Apple iTunes Store now.
Feedback and Support:
We plan to issue updated versions every three months to add new data, including your requests. We welcome your comments and suggestions.