Snowed In: Cuvée Winston Churchill 1988-1999

Snow. I am writing this piece looking out of my window upon snow, crisp and even. It looks so pretty…the whitewashed Surrey countryside…the silence and tranquillity, the hard edges of modernity erased by Mother Nature's fluffy white powder, all gentle curves and softness. Outside by the willow, a couple of rosy-cheeked children wrapped up like Michelin men can barely contain their joy as they lob snowballs at each other whilst a dad rolls the torso of a snowman for his son, ready with carrot and hat. It is a picture postcard, a vista supposedly consigned to history thanks to global warming. But inside I am seething, seething because I ought to be at Vintners Hall tasting multiple vintages of Krug Clos de Mesnil followed by a dinner studded with an array of Pol Roger Cuvée Winston Churchill.
I am not one for giving up easily mind you.
Earlier, with the Renault Clio thigh deep in snowdrift, I had waited in vain for a bus and waited until the first stage of hypothermia. So I have returned to base camp, issued apologetic e-mails and am penning this piece to assuage today's sparkling deprivation.
This piece concerns a splendid vertical tasting of Pol Roger's flagship champagne, Cuvée Winston Churchill that I attended earlier this year. I have already covered the history of the champagne house but did not spend time upon this particular marque.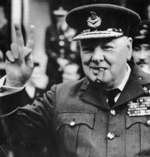 (One of our better Prime Ministers…)
There is a long, mutually profitable association between Pol Roger and Sir Winston Churchill. The lifelong relationship fomented in the West End clubs that the young Winston visited and invoices record that he made his first purchase on March 3rd 1908, the year that he became President of the British Board of Trade. His own contribution to the importation of goods, at least in terms of alcoholic beverages, included inter alia a dozen bottles of Pol Roger 1895, a dozen St. Estèphe 1896, Italian vermouth, one bottle of Benedictine, orange bitters and six bottles of cognac (for mixing.) In February 1945 he ordered Pol Roger 1928 to be despatched to the British Embassy in Paris, perhaps ready to celebrate the Führer's surrender. He was almost obsessed with this particular tipple and the man, conservative by name and conservative by nature, would drink the '28 or go thirsty. By all accounts, he never went thirsty.
It was during this time that Churchill was introduced to Odette Pol-Roger by her husband Jacques and they began a platonic relationship that lasted until his death. Odette was a woman of great pulchritude, as attested by Cecile Beaton's famous photograph. Today's tabloids would doubtlessly been filled with scurrilous rumours, but Odette's friend Susan Mary Alsop described their friendship as: "…a beautiful December-May relationship, quite harmless and smiled on by Mrs. Churchill, who very much admired Odette." They would always meet whenever he visited Paris and promised to visit Epernay. "Invite me during the vintage," he wrote, "and I'll press the grapes with my feet."
Unfortunately he never made it.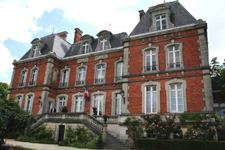 (The head offices of Pol Roger.)

In August 1948, Churchill requested six-dozen Imperial pints of Pol Roger 1928, a format requested because a whole bottle was too much, whilst a half-bottle was "insufficient to tease my brains." He continued ordering this particular vintage, smitten by its sweetness and richness, and only reluctantly changed to a later millésime, the 1947, around 1956. It is said that when he died in January 1965, Churchill had procured over 500 cases of Pol Roger over the previous decade and to mark his death, a black band was emblazoned on the white foil in the United Kingdom (changed to a dark blue one around 1990 since 25-year's mourning was deemed adequate.)
In 1976 the company introduced a new champagne that was named "Réserve Spéciale Cuvée PR" that was based on the 1971 vintage: an equal blend of Pinot Noir and Chardonnay from selected vineyards rated 100% on the Échelle des Crus. In 1984 they debuted the first Cuvée Winston Churchill that was based on the 1975 vintage and reflected the richer style that their most celebrated customer had a penchant for. The initial release was of around 1,000 magnums (no bottles) selected from 100% Échelle des Crus that were in existence when Churchill was alive, rather than those that have been designated after Champagne's expansion. Cuvée Winston Churchill was subsequently released alongside the Réserve Spéciale until the late 1980s. The blend for the former is never disclosed, although there is generally around 80% Pinot Noir and 20% Chardonnay. 
I tasted several vintages of Cuvée Winston Churchill over lunch, commencing with the 1998. This had been disgorged two years before and so I assume this is the same as my colleague Antonio Galloni's note on TWA. Given the prescriptive style, I found the nose surprisingly (and pleasingly) taut and almost Zen-like compared to previous bottles, but then that signature richness manifests itself with continued aeration and defines the palate that is quite creamy in texture, hints of almond and brioche inflecting the finish. We compared this with the Cuvée Winston Churchill 1999 that has a slightly lower dosage than the '98, 5gms/l compared to 8gms/l, and this had a very tightly wound, citric nose that showed more mineralité than the '98, a saline tincture on the entry, although I preferred the texture of the '98 at least at this moment. A little soft, perhaps lacking the substance of the 1998, this will be earlier drinking than other vintages.
We moved to the Cuvée Winston Churchill 1996 that has a slightly higher dosage of 10gms/l. This has a gorgeous bouquet with subtle notes of freshly caught oysters and citrus peel, the palate very taut and focused, crisp Granny Smith's defining the tense finish. It reflects the style of the vintage supremely well and should age indefinitely. Our bottle of '95 was DOA, so we moved to the Cuvée Winston Churchill 1990 that was obviously deeper in colour than the younger vintages. It had a more developed nose with baked bread aromas, Braeburn apples, hazelnut and a touch of beeswax. The palate is rounded and weighty, a little sweet in style with hints of mandarin and honeycomb, the finish a little lower in acidity but caressing. If its namesake had joined us for lunch, this would have been his personal favourite.
We finished with a rare opportunity to compared the Cuvée Winston Churchill 1988 with the Réserve Spéciale 1988 (which I believe was the final release). I have always adored this vintage, the Cuvée Winston Churchill 1988 with its complex, bewitching bouquet of dried honey, quince, pressed flowers and a touch of marmalade, the palate beautifully balanced with a viscous finish. The Réserve Spéciale 1988 was a little deeper in hue, a little more advanced and fungal on the nose with hints of dried apricot, the palate not dissimilar to the Cuvée Winston Churchill with an elegant finish. There was not much difference in terms of quality between the two, although I felt that the Cuvée Winston Churchill had evolved better than the Réserve Spéciale and demonstrates a longer evolutionary arc.
With that, it was time to stand for God Save the Queen and a toast to the man who saved me from writing this article in German….
(…to be continued.)
Tasting Notes

1999 Pol Roger Cuvée Winston Churchill 92
Tasted at the Winston Churchill lunch at The Square. The '99 Winston Churchill was bottled was a slightly smaller dosage of 5gms/L. It has a steely, Chardonnay-dominated bouquet with crisp Granny Smiths, a touch of Kaffir lime and almond. The mineralité seems to really shine through, what you might describe as a "transparent" bouquet. The palate has a saline touch on the entry, very good weight although the '98 seems to have a little more finesse and harmony at the moment. Good potential though. Drink now-2025+ Tasted March 2010.
1998 Pol Roger Cuvée Winston Churchill 93
Tasted at the Winston Churchill lunch at The Square. This bottle was disgorged in 2007 and bottled with a dosage of 8gms/L. It has a vibrant, almost Zen-like nose with superb delineation, those signature notes of clear honey and brioche developing with time. The palate is elegant, fresh and slightly creamier in texture than the '99, very balanced and leading to a weightless, Linden leaf-tinged finish. Very fine. Drink now-2025. Tasted March 2010.
1996 Pol Roger Cuvée Winston Churchill 94
Tasted at the Winston Churchill lunch at The Square. With a dosage of 10gms/L, the '96 Winston Churchill has a crisp, citrus nose with touches of freshly caught oyster and lemon peel. Very fine definition, not as evolved as I have discerned on previous bottles. The palate has a vibrant entry with crisp green apple, just a slight metallic edge, the Chardonnay seemingly more expressive than the Pinot Noir, at least at the moment. Great focus on the finish. This will age very well. Drink now-2020. Tasted March 2010.
1990 Pol Roger Cuvée Winston Churchill 94
Tasted at the Winston Churchill lunch at The Square. The 1990 Winston Churchill has a deep honeyed colour and that is reflected in the lovely, yeasty nose with touches of baked bread, hazelnut and honeycomb, hints of red apple developing later on. Fine definition although not quite the focus of the '88. The palate is rounded and again, quite sweet and yeasty with touches of mandarin towards the weighty, slightly viscous finish. Great length. Superb. Drink now-2018. Tasted March 2010.
1988 Pol Roger Cuvée Winston Churchill 96
Tasted at the Winston Churchill lunch at The Square. The '88 has a languid mousse. The bouquet is just beautiful, with quince, dried honey, quince and dried flowers, developing just a hint of oyster mushrooms with time in the glass, but maintaining its definition. The palate is very focused and beautifully balanced with touches of marmalade upon the honeyed canvas, leading to a refined, caressing and utterly seductive finish. One of great releases of the Winston Churchill and drinking perfectly now. Tasted March 2010.
1988 Pol Roger Réserve Spéciale 94
Tasted at the Winston Churchill lunch at The Square. Slightly deeper in colour than the Cuvée Winston Churchill, this displays more wild mushroom elements on the nose but maintains fine definition, becoming yeasty with dried apricot aromas developing. The palate is still fresh, honeyed and slightly viscous and yet you cannot avoid the elegance towards the finish and it seems to coalesce in the glass. Very fine. Tasted March 2010.