Snowed Out: Pol Roger 1966-2002

Sod this. I've spent all day staring out the window at the snowy tundra that is the Surrey countryside. I cannot abide not attending scheduled tastings, I feel discombobulated, I cannot write, I am bereft of inspiration. So sod this…it is 5.10pm and despite having excused Gareth Birchley from Bordeaux Index that this Godforsaken weather will not bar me from my rightful seat at a table. I cannot guarantee my time of arrival and to be honest, I fear skidding off into a snowdrift, only to be rescued by a psychotic Wine-Journal reader who will tie me to a bed until I have given Blossom Hill Blush Zinfandel a perfect 100-points. But I will be there, by hook or by crook!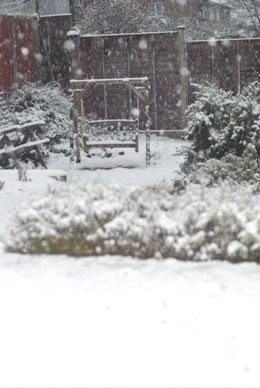 (This is the equivalent of whiteout in Surrey.)
It takes a while to dig out the car, though the benefit of procreation is that I am able to conscript my daughters into shovelling snow. When they are gullible under-fives, it is pretty easy to dress up "child labour" as "fun in the snow, as seen on CBeebies". Plus I get the chance to lob a few snowballs at their angelic perma-frosted faces. I eventually reverse out the driveway and my car skates down the road flirting with the idea of skidding into somebody's front living room.
Why did I never buy that 4x4?
Somehow I manage to get to the bottom of the road and thereafter the drive to Guildford Station passes without incident since nobody went to work. The country is in shut-down. I buy a ticket and walk briskly to catch the slow train to London Waterloo, which is better than no train to London Waterloo. After 30 minutes waiting on a stationary train, I decide that this ain't going anywhere and so I cross to platform five. It takes another 30 minutes to arrive after the delayed 16.37 is cancelled. I eventually board a train over an hour after arriving at the station, a train that comes to an unexpected grinding halt outside Woking.
I assume this is so that we can look at Narnia outside?
Thanks Southwest trains.
It is another 30 minutes before we move into the station and then we are off to London Waterloo!
Hoorah!
Except around West Byfleet the conductor announces over the P.A. that all passengers will be ejected at Surbiton…something to do with the wicked White Witch screwing up the points.
Cue expletives and threats to lynch anyone remotely connected with Southwest Trains. Where's Aslan when you need him?
Surbiton is not exactly the prettiest of towns, let alone when the temperature is barely above zero Kelvin, but 30 minutes later another train deigns the frozen passengers with its presence. In stuttering fashion it gets me to Vauxhall where I change onto the tube, which is working like clockwork since it is too cold for the drivers to strike. I eventually arrive in Notting Hill, which has barely had a fluff of snow, no doubt because the snow is too poor to settle there and I take a pew at The Ledbury three and a half hours after gently closing my front door (gently, as an overhead icicle that threatened to impale me to the front lawn.)
I just wanted to express the lengths I went to, bringing these tasting notes for your leisure. I have already discussed the background of the Cuvée Winston Churchill, although the 1998 and 1999 were tasted here in magnum rather than bottle. Nonetheless, the '99 still lacked a little substance compared to other vintages and as such, will drink earlier than the '98 and '96. However, on par with those is the startling Blanc de Blanc 1996. It is the kind of champagne that Anne-Claude Leflaive would make if she tired of Puligny, so expressive was it in terms of mineralité. Exquisite balance and sense of femininity on the palate, I cannot recommend this highly enough and I would put this on par with the Cuvée Winston Churchill, at least at this point in time.
This was followed by a mini-vertical of Brut Vintage that were variable, the Brut Vintage 1990 somehow a little monotonous, although the Brut Vintage 2000 is turning out to be a pretty debutante that should age well over the next decade. Alas, a bottle of Brut Vintage 1966 was very fungal and rather volatile on the nose, the palate not much better. The vintage had been chosen to celebrate FIFA's selection of England as the host country of the World Cup in 2018. Given that we were blackballed in the first round, I would say that it was an appropriate choice.
We finished on a delightful Rosé 2002 that displayed notes of guava and oyster shell on the nose, the palate forthright and not shy, it was then time to depart to my brother's pad in Chiswick and save myself a futile journey back through snow-blanketed Narnia.
Thanks to Bordeaux Index for organizing the tasting and to the valiant Southwest trains that got me there.
Tasting Notes

1999 Pol Roger Blanc de Blancs 88
Pale in colour, the '99 Blanc de Blanc has a very primal, Burgundian nose with fine definition, touches of brioche and almond developing with time. The palate has a caressing, light, feminine touch much like the Cuvée Winston Churchill with hints of pear drop on the finish. This is a pretty Blanc de Blancs, but it lacks a little substance. Drink now-2017. Tasted December 2010.
1996 Pol Roger Blanc de Blancs 94
I think that this is a startling Blanc de Blanc that to be frank, embarrassed the '99 tasted alongside. It has an ethereal sense of mineralité on the nose that is way above its station, limestone and dewy Granny Smith apples. The palate displays beautiful poise and tension with hints of white peach and lime flower, elegant and refined on the finish. This is one of the finest Blanc de Blancs that I have tasted in a long time. Drink now-2020+ Tasted December 2010.
1999 Pol Roger Cuvée Winston Churchill 92
Tasted from magnum, the nose is consistent with the bottle tasted earlier this year, the Chardonnay  really driving the bouquet forward, although there is a curious tincture of aniseed that lends another dimension and later a hint of nougat. The palate has very fine weight, perhaps more so than in bottle and yet again, it seems to take its foot off of the accelerator towards the finish that is relatively simple compared to the '98. Drink now-2025+ Tasted March 2010.
1998 Pol Roger Cuvée Winston Churchill 94
Tasted from magnum, this is an excellent Winston Churchill that is well defined and more expressive on the nose compared to the bottle, with subtle notes of toffee apple, crushed almond and a little honey. The palate is very elegant and demonstrates more weight and ambition than the '99, brioche and lime leaf furnishing the finish. This is just lovely. Drink now-2025. Tasted March 2010.
1996 Pol Roger Cuvée Winston Churchill 95
Tasted from magnum, a consistent notes here with those hints of fresh oyster shell on the nose, mixed with green apple and limestone. Very good weight on the palate with hints of pear drop rendering the finish so pretty and feminine. Certainly out of magnum, one has the sense that this Winston Churchill has barely begun to express itself, but it is certainly shaping up  to be a beauty. Drink now-2020. Tasted March 2010.
2000 Pol Roger Vintage Brut 91
The millennial Pol Roger Vintage Brut (from magnum) displays fine precision on the nose, with touches of limestone, citrus lemon and a hint of white peach, though tightly coiled at present. The palate is well balanced with good weight, touches of brioche and almond interlacing the citrus-driven fruit, leading to an elegant, almost understated finish. Very fine. Drink now-2020+ Tasted December 2010.
1998 Pol Roger Vintage Brut 89
Poured from magnum, the '98 has good lift on the nose with lemon peel, fresh apple and crushed stone with just a hint of spice becoming more prominent with aeration. Just a touch of Tropicana on the entry, nicely balanced but let down by a little shortness towards the finish. Drink now-2018. Tasted December 2010.
1995 Pol Roger Vintage Brut 91
Poured from magnum, this has a zesty bouquet with faint hints of peppermint in the background. This is showing much more youthful than in bottle format, very well balanced and quite Burgundian with hints of fresh pear, white peach and lemon zest towards the precocious, leesy finish. Superb and certainly superior to bottle format. Drink now-2025. Tasted December 2010.
1990 Pol Roger Vintage Brut 88
Poured from magnum, the '90 has quite a complex bouquet with scents of hazelnut, brioche and a touch of smoke and later, just a puff of chalk dust. The palate has a smooth entry with a sherbet-like fizz, apricot and white peach lending freshness and vibrancy. Yet over time, there is a certain monotony to this vintage that I cannot ignore and it certainly has less tension than the '95. Drink now-2015. Tasted December 2010.
1966 Pol Roger Vintage Brut ?
Served to celebrate England winning the 2018 World Cup, this '66 fell as flat as the England bid. Oxidized on the palate, mushroomy on the palate, no thank you. Tasted December 2010.
2002 Pol Roger Rosé 90
The '02 rosé has a subtle, oyster shell tinged nose with fresh strawberry and a touch of guava, the palate quite rich and slightly viscous on the entry, good acidity and tension on the front palate but lacking a little refinement on the finish that gives its all. A vibrant, is slightly ostentatious rosé. Drink now-2018+ Tasted December 2010.