New Zealand Winegrowers case study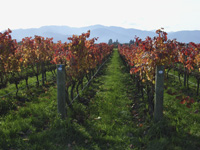 New Zealand Winegrowers is a joint initiative of the New Zealand Grape Growers Council, representing the interests of New Zealand's independent grapegrowers, and the Wine Institute of New Zealand, representing the country's wineries. It aims to represent, promote and research the national and international interests of the New Zealand wine industry.
New Zealand Sauvignon Blanc is already a highly successful grape variety in Greater China, including Hong Kong and Macau, and maintains an exceptional level of consumer awareness, so much so that it dominates New Zealand wine exports to the Asian region. While wanting to maintain their leadership in this arena, the association came to IWC wanting to raise awareness of and grow interest in other grape varieties and wine regions in the country. Additionally, they wished to highlight the compatibility of New Zealand wine with Chinese food.
IWC launched the Hong Kong focused awareness campaign in October 2008 with a festive open air tasting for wine trade representatives and key opinion leaders in the region. Emulating the spirit of the great outdoors that characterises New Zealand, the exclusive event created a unique buzz in the wine world of Hong Kong.
Taking a holistic approach to the awareness campaign, IWC segmented and targeted key stakeholders in Greater China with events and activities conducted in a number of different forums to drive key messages. Strategic media activities were carried out to educate the wine and lifestyle media about New Zealand's reds and the ideal pairings with Chinese food. Tasting master classes were held for media representatives and opinion leaders. A number of wine functions were hosted for Hong Kong's wine societies, fraternities and private collectors. This tactical approach enabled specific messages to be delivered to each stakeholder group in an appropriate and concentrated fashion.
Additionally, a long-term programme of relationship building activities continues with key opinion leaders in order to capitalise on the initial success of the campaign.
The successful campaign gained widespread media coverage, raising consumer awareness and stimulating increased interest in this segment of the New Zealand wine market among key decision makers and opinion leaders in the local and regional wine trade.
This is what Chris Yorke, Marketing Director of New Zealand Winegrowers said about IWC: 'New Zealand wines have enjoyed enviable success across Greater China, we consider the consultancy services, cultural insights and local knowledge provided by Simon and his IWC team crucial in our marketing strategy mix and ongoing success.'