I Don't Exist

Apologies for the rather existential title to this short piece, but I have always been fascinated by those enigmatic rara avis that are so rare that their existence is refuted. In my vinyl junkie days, an obsessive collector placed an advertisement in Record Collector magazine each month, begging for the twelve-inch of Marc and the Mambas cover of Scott Walker's "Big Louise". It was obviously the missing record from his collection and he offered a four-figure sum. As time passed he became more desperate, as if life would not be complete without it. I began to fear for his sanity.
Wine is exactly the same. For example, have a look in Michael Broadbent's "Vintage Wine" under 1915 for the white Bordeaux. He correctly states that no Yquem was made in that miserable year. The château will tell you the same…except I held a bottle in my hands not so long ago. There are countless bottles (and bottlings) whose existence is unconfirmed and thus they remain the Holy Grail of collectors and completists.
Whilst collating tasting notes together it came to my attention that over the past few months I have been privileged to taste wines that technically do not exist, at least not in the commercial sphere. They are the "Big Louise's" of the wine world.
So I thought I would gather them together here and at least vouch for their existence.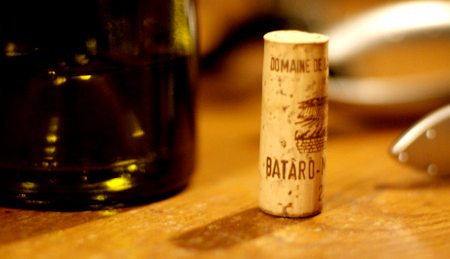 Firstly, the fabled private white Burgundy from that most hallowed of names: Domaine de la Romanée-Conti. In early November, after tasting their 2009s in barrel I was treated to their customary "Guess the DRC" competition. After two reds (Echézeaux 2000 and Richebourg 1990) we were served a white wine in a plain bottle and I instantly recognized that it was not a Montrachet. Why? Well, I still have vivid memories of the ethereal Monty '07 served in similar fashion last year, its tension electrifying the senses. This was different. It actually reminded me of Anne-Claude Leflaive's 2006s that I maintain were picked just a little tardy, denuding the wines of their signature mineralité. So it was on the Bâtard-Montrachet 2006 from Domaine de la Romanée-Conti.
Just to give you some background, their 0.17-hectares of Bâtard-Montrachet yields two barrels per year, none of which goes beyond those red iron gates in Vosne. I believe that the parcel was acquired at the same time as their first acquisition of Montrachet in 1963 (but I cannot verify that at time of writing.)
As for the wine?
Well, it was a lovely Bâtard-Montrachet perhaps compromised by being picked just a smidgen too late, but it still had a lovely, viscous, weighty, honeyed finish, if not quite the breeding of a top-class white Burgundy. Just to prove its existence, I took a photograph of the branded cork, although I very much doubt that Aubert goes to the trouble of printing a label when the wine is not actually sold.
Next up, Château Julien 2003 that turned up at a lunch at The Ledbury. This is sourced from the one-hectare of vines owned by Château Pichon-Lalande located 'over the border' in the eponymous commune. Perusing the back label, the 2003 is a blend of 80% Cabernet Sauvignon and 20% Merlot and is matured for 15 months in 50% new oak. Around 400 cases are produced and you do not see it often (though I did chance upon a stash retailing in New York for a modest sum.) The 2003 was not bad at all considering the vintage: plump, round and buxom, never desiring to be anything more that a lovely Claret that felt as if it had more Merlot than 20%.
Third, a wine from Tuscany that turned up at the end of a
Tenuta dell'Ornellaia
dinner. Served blind, it almost skulked away anonymously before I piped up and enquired what it was. Turns out that it was the
Petit Manseng 2006
mischievously planted by former estate manager Thomas Duroux before leaving for Château Palmer (can this man not go
anywhere
without planting a few white varieties from southwest France???) When I visited Thomas in Bordeaux I told him how much I appreciated the wine, to which he replied that he had never tasted it. Famed for its sweet wines, the more breezy climes of Tuscany inhibit botrytis at Ornellaia. It was a little taciturn at first, but developed intriguing notes of clear honey, nutmeg and dried apricot, before the palate pleased more in terms of its texture rather complexity, becoming rather Sauternes-like towards the finish. I believe that the 2006 will not be commercially released but that future vintage will, subject to quality.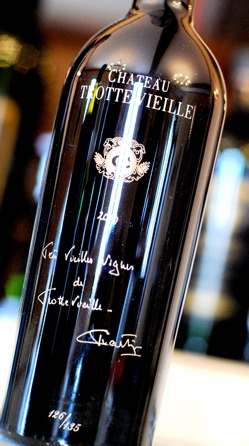 Last but not least: the rarest Bordeaux?
Like the Bâtard-Montrachet, the Chateau Trottevieille Les Très Vieilles Vignes 2004 is for private use only, ditto subsequent vintages. In this debut year, only 135 bottles were produced from the vineyard's 150-year old Cabernet Franc; vinified separately and bottled in a beautiful 19th century replica replete with fathomless punt etc. I am a great fan of Cabernet Franc, so this was of particular interest. It had an arresting, complex bouquet with black plum, honey and a thick layer of oak that will require several years to subsume into the wine. The palate was tannic and masculine but well balanced with a backward, muscular, quite earthy, liquorice-tinged finish. I would be fascinated to try the wine from a less challenging vintage.
With regard to "Big Louise", it was several years later that the record company confirmed that the 12-inch did not actually exist.
Maybe he should have asked Mr. Rodenstock? I am sure he has several copies.
Tasting Notes

2006 Domaine de la Romanée-Conti Bâtard-Montrachet Grand Cru 89
Served blind at the domaine (where else?) my immediate reaction upon nosing the glass is: Anne-Claude Leflaive's 06s because I feel there is some excess botrytized fruit obfuscating the precision. Noticeable deep in colour considering its age, the nose open to reveal honeycomb, vanilla and dandelion, but not the mineralité one seeks in a great Bâtard. The palate is rich and generous, slightly viscous in texture with dried honey, dried passion fruit and a touch of vanilla on the finish, with pineapple lingering on the aftertaste. A privilege to drink, although I suspect their private collection houses superior examples than the 2006. Tasted November 2010.
2003 Château Saint Julien 87
This is a fascinating wine. Château St. Julien is the rarely seen wine from Château Pichon-Lalande from the 1-hectare of vines located 'over the border' in the titular commune. It is a blend of 80% Cabernet Sauvignon and 20% Merlot and is matured for 15 months in 50% new oak. It has a soft, plump, red-berried bouquet typical of the vintage, the palate well balanced, perhaps a little stern at first but soon softening up. Funnily enough, it does actually taste more Saint Julien than Pauillac. Not a complex Pauillac…I mean Saint Julien…lacking some vigour on the finish. But an interesting wine nonetheless. Drink now-2016. Tasted July 2010.
2006 Tenuta dell'Ornellaia Petit Manseng 89
An intriguing wine from an experimental parcel planted by Thomas Duroux that should be commercialized in the future. It has a taciturn nose at first and only after 15 minutes does it wake up and offer hints of dried honey and nutmeg, later dried apricot and a hint of vanilla pod. The palate is well balanced but again, a little anonymous at first, offering textural rather than flavour delight, but it unfolds in the glass and becomes quite Sauternes-like despite there being not botrytis. Even in small quantities, I hope the estate will sell this in the future. Tasted August 2010.
2004 Chateau Trottevieille Les Très Vieilles Vignes 90
The debut Très Vieilles Vignes sourced from 150-year old Cabernet Franc that is vinified separately and bottled in a stunning 19th century replica. It is bridled with a quite stunning bouquet: pure blackberry, black plum, a touch of honey, a hint of vanilla from the new oak that will take several years to subsume itself into the wine. The palate is medium-bodied, very rich and opulent, with saturated, fleshy tannins, black cherries, plum, a touch of soy, marmalade and Seville orange. Very well balanced, very pure and yet still very backward with firm, slightly earthy yet silky smooth tannins towards the liquorice-tinged finish. An incredible wine, alas one that is not commercially available, notwithstanding the fact that only 135 bottles were produced (minus one of course.) Tasted April 2010.